This is an archived article and the information in the article may be outdated. Please look at the time stamp on the story to see when it was last updated.
Some days our perfectly clear, blue sky shows some white, smoky-looking lines that follow aircraft.  These are "contrails," or more technically: cirrus aviaticus.  They are clouds that develop in high altitudes as water vapor crystallizes around small exhaust particles (it makes small ice crystals) up around 20,000 to 30,000 feet.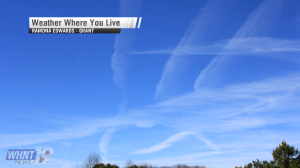 I noticed them showing up by late morning, and Ramona Edwards sent a photo of several of them clustered over the Marshall County sky on Friday around midday.
She writes:
"…there were SO many strange contrails in the sky today?  Was there an air show or something?  Here is a photo of some of them, although they had already dissipated somewhat by the time I took this.  There is one small one in the bottom left corner that starts suddenly, then turns – just looks odd.  And then that one cloud that looks like a boomerang."
The reason they look so wispy and bowed is the wind; slight changes in wind speed shear across the line making bows and waves.  Occasionally you can even see one like the "boomerang" showing a fairly sharp turn by an aircraft.
You could say there's an air show over Alabama every day; we are between two massive air travel hubs in Atlanta and Memphis, then there are two other major airports in Birmingham and Nashville nearby.  Look at the snapshot map from FlightAware.com showing air traffic in the region related to Atlanta's Hartsfield-Jackson Airport only – that's a LOT of planes in the air crossing Alabama headed to and from Atlanta: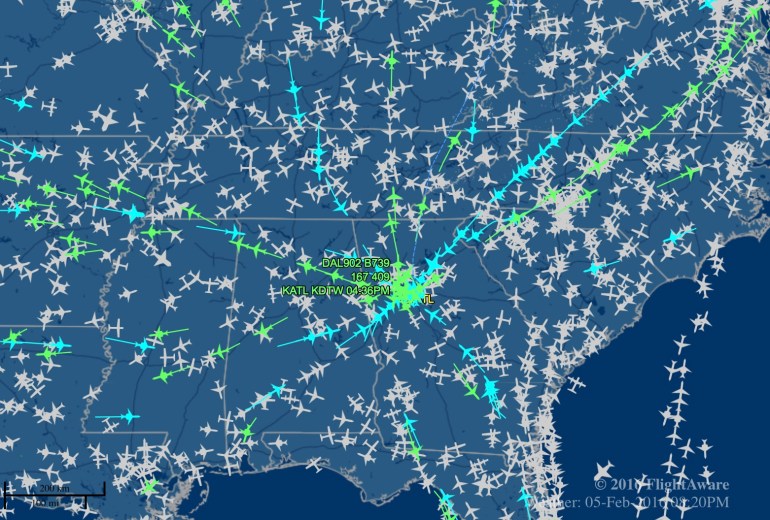 We don't see this every day because conditions are not right every single day.  I first learned about forecasting contrails from a former NWS forecaster and Air Force meteorologist in Meridian, Mississippi.  He told me the history of how the military had to figure out the contrail problem so the enemy would not be able to track high-altitude aircraft so easily.
How'd they do it?
Meteorologists used upper-air soundings: weather balloons to study and figure out what conditions favored high-flying aircraft with no trace of contrails behind them.
Friday morning's soundings from Nashville, Birmingham and Little Rock tell the story.  It was crystal clear up and down I-65 at 6 AM, but a little more upper-air moisture blew in from Little Rock by mid-morning allowing for those contrails to stand out against the cobalt blue.
The water vapor imagery from 6 PM Thursday to 1 PM Friday shows that patch of moisture moving east toward the Tennessee Valley by midday Friday.
There are a lot of good resources about these features that will teach you a lot about how the atmosphere works:
Physics Buzz Blog
CIMMS Wisconsin
Cliff Mass Weather Blog
…and if you're adventurous and need a laugh, check out Dennis Mersereau's old post from Gawker's "The Vane."
The bottom line is these things are nothing to worry about; they've been around for ages, and although you might never have seen them like they are today or on another day in the future, chances are you just didn't ever really notice them much before that moment!
-Jason
Connect with me!
Facebook: Jason Simpson's Fan Page
Twitter: @simpsonwhnt