This is an archived article and the information in the article may be outdated. Please look at the time stamp on the story to see when it was last updated.
Late Saturday night through early Sunday morning, a line of severe thunderstorms moved through the Tennessee Valley, producing damaging winds that felled large trees and even trapped two individuals in their home.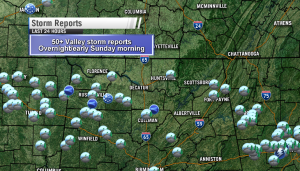 A number of 60+ mph wind gusts were observed in the Valley early Sunday morning:
Pogo (Franklin County): 75 mph wind reported at 12:45am
Phil Campbell (Franklin County): 60 mph wind reported at 1:22am
Eva (Morgan County): 60 mph wind reported at 2:18am
South Vinemont (Cullman County): 78 mph wind reported at 2:19am
Numerous trees were felled across the Tennessee Valley as a result of the damaging winds.
Large tree felled by strong winds early Sunday AM on Denison Avenue in Cullman #ValleyWx #ALwx pic.twitter.com/YnpRezDJwn

— Christina Edwards (@ChristinaWHNTwx) May 29, 2017
Two people, three pets trapped, rescued after a tree falls on their house
In Cullman, two people and two pets were trapped in a house located on Dripping Springs Road, according to WHNT News 19 viewer Joseph Swader. A third pet was trapped outside the house but yet affected by the tree.
"The man that was renting the house is actually my stepfather. He is 66 years old and he had a female roommate of  70 years old," Swader explained.
"At around 3 am Sunday morning, a huge oak tree crashed through the kitchen, living room, bathroom and back bedroom of their house. My stepfather was stuck inside the living room and the lady was stuck in her bedroom where the tree had fallen."
"My mother, my brother and I showed up on the scene first. All entrance ways were blocked so I jumped into the living room window, noticed that my stepfather was okay, and immediately ran to his roommate's back bedroom where she was hollering for help," Swader said.
"And I felt so helpless, so I ran back outside around to her bedroom window where it was also blocked off and informed her that the fire department was on their way. My brother jumped into the living room window and helped my step-father out the house. By then, the fire department ambulance and police were on the scene."
"Shortly after, the fire department was able to reach my stepfather's roommate from her bedroom window, getting her out of the house safely along with their pet cat and pet dog. Amazingly, all four only suffered scratches. At about 8 o'clock Sunday morning, the dog in the backyard was covered by the tree in which we were able to release him from his cable and set him free," stated Swader.
"We thank God that everybody was safe we also thank the fire department ambulance and police department of Cullman City."