This is an archived article and the information in the article may be outdated. Please look at the time stamp on the story to see when it was last updated.
Severe storms in the Midwest killed at least three people in Missouri and Illinois Tuesday evening, and we expect strong to severe storms around here during the day Wednesday.
The Storm Prediction Center has outlined the Tennessee Valley with an 'Enhanced Risk' of severe weather for Wednesday.  Storms in Arkansas, Tennessee and Mississippi Tuesday night move this way by sunrise Wednesday bringing showers and storms (likely in a weakened state) to The Shoals between 6 and 9 AM.  The main event comes later in the day.  Here's the timeline as of Tuesday night (some adjustments may still be needed):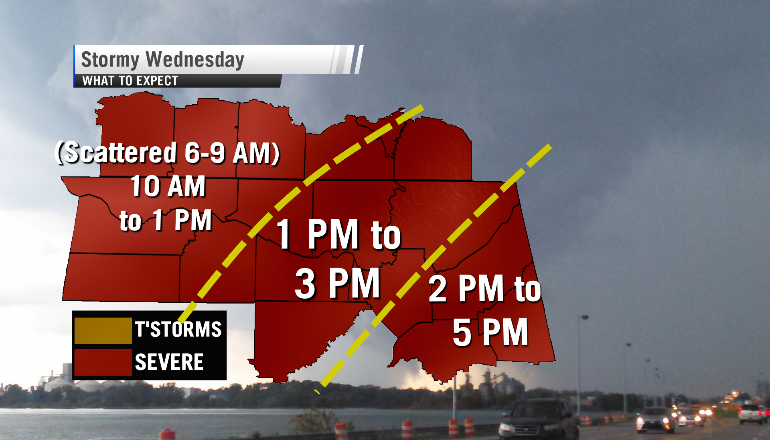 Track heavy storms with WHNT.com's Interactive Radar or swipe over to the radar feature on Live Alert 19!
What to expect from the storms: There's an old saying that says 'when it comes to thunderstorms, expect the unexpected.' That's a nice cover-it-all kind of statement, but it's very true.
There is a chance that some heavy storms could get in here before 10 AM Wednesday. The most likely scenario brings them through after 10 AM through roughly 5 PM Wednesday afternoon.
Any storms that get strong Wednesday could produce damaging winds, hail, and tornadoes. In other words, be ready and listening for warnings if they are needed for your area.
Resources provided by WHNT News 19 to make sure you're on alert and ready to go:
How to program a NOAA Weather Radio
WHNT.com's Maps & Radar Page
Live Alert 19 and the WHNT News 19 App
Baron Saf-T-Net (phone/text)
-Jason
Connect with me!
Facebook: Jason Simpson's Fan Page
Twitter: @simpsonwhnt