This is an archived article and the information in the article may be outdated. Please look at the time stamp on the story to see when it was last updated.
Track heavy storms with WHNT.com's Interactive Radar or swipe over to the radar feature on Live Alert 19!
Summer storms can be some of the worst weather you'll see all year; that does not mean they are extremely severe storms, though. Most of us experience 30-40 mph wind gusts only a handful of times in a 12-month period. Gusts like that seem much worse because we're not used to it. That kind of wind along with heavy rain and frequent lightning will accompany thunderstorms this weekend.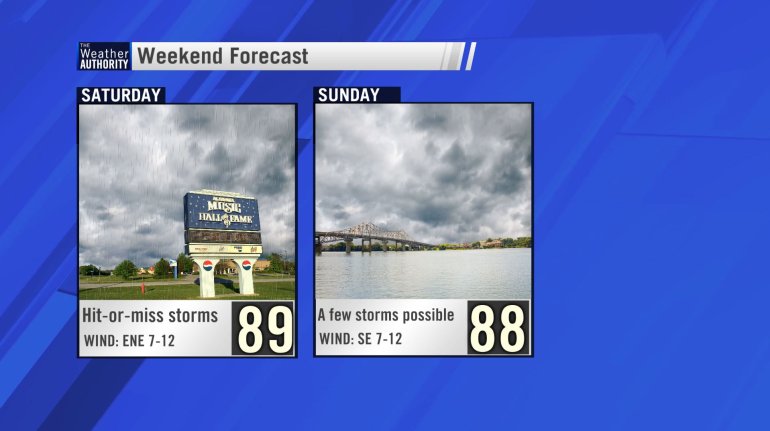 Saturday: rain-free in the morning, storms develop mainly over eastern Alabama (from Jackson County south through the Gadsden-Anniston area) in the early afternoon. They'll be westbound storms: moving from the eastern side of the state westward through early evening.
Sunday: we maintain a 50% chance of rain, but confidence is a little lower that the rain is very widespread. Be ready for a few afternoon storms here and there, but coverage should be much lower than Friday and Saturday.
Next week's pattern: The weather does not change a lot from day to day next week: highs in the lower to middle 90s and a chance of an isolated storm or two in the afternoon and evening.
This is the least-variable time of year based on Huntsville's climatology; our average high is 91ºF, the average low is around 70ºF, and the average range from that over the past 30 years is only about 4 to 5 degrees. In other words, highs between 86ºF and 96ºF are 'normal' for early to mid-July.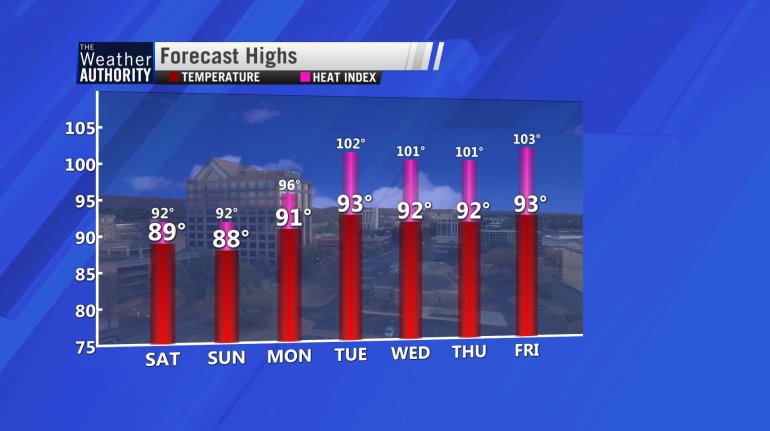 Need more specific forecast info? It's always online at WHNT.com/Weather and in the "Daily Forecast" section on Live Alert 19!
-Jason
Connect with me!
Facebook: Jason Simpson's Fan Page
Twitter: @simpsonwhnt