This is an archived article and the information in the article may be outdated. Please look at the time stamp on the story to see when it was last updated.
Widespread intense thunderstorms rolled across the Tennessee Valley Thursday afternoon, producing numerous reports of tree and wind damage as well as intense lightning and locally-heavy rainfall.  The risk of severe storms fades for Alabama tonight, and fewer storms are in the forecast for Friday.
Fewer storms means more heat!  Friday's high temperatures reach the lower 90s, but the heat index likely surges as high as 100ºF to 105ºF between 11 AM and 5 PM.  Only a few isolated downpours develop in the heat of the day Friday (30% chance of rain).  A few isolated storms 'pop up' here and there this weekend; most of us just stay hot and dry through Saturday and Sunday.
Weekend weather update: Some isolated storms are possible this weekend, but we see nothing like the widespread stormy weather that blew through on Thursday.  Summer storms can be some of the worst weather you see in a calendar year even if the aren't 'severe' by definition (58 MPH+ winds, hail larger than a quarter).  Any storms that blow up over the weekend could bring brief high wind gusts over 40 MPH, intense lightning, and 30 minutes' worth of very heavy rainfall.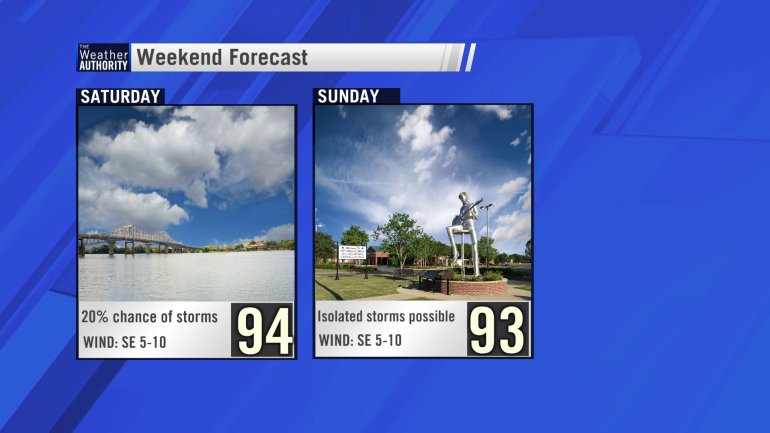 Few of us get any rain at all this weekend, and that means the real headline is the hot and humid weather.  Expect daytime highs in the mid-90s with a heat index that likely pushes higher than 105ºF from midday to early evening.  The chance of a thunderstorm?  Only about 20% for Saturday and Sunday afternoons.
The week of the Fourth: Sunday marks the first day of July, and the weather will make it feel just as hot as you'd expect it to in early July.
We see potential for increased afternoon/evening thunderstorm coverage next week, but it still looks very hit-or-miss.  In other words, there's a good chance we'll see some storms in the area, but the odds of that rain hitting your house, your cookout, your pool party, etc. are less than 50-50 on any given afternoon.  Days with more storms have less excessively high temperatures/'feels like' temperatures, but it's going to be hot either way!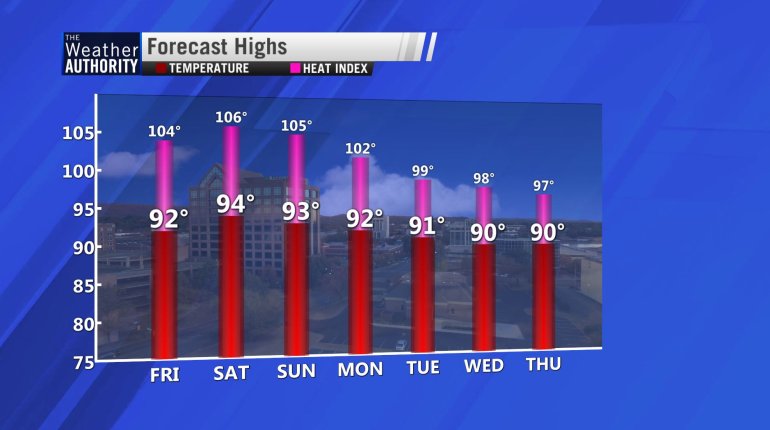 Need some specifics about the weekend or next week? They're always online at WHNT.com/Weather and in the "Daily Forecast" section on Live Alert 19!
-Jason
Connect with me!
Facebook: Jason Simpson's Fan Page
Twitter: @simpsonwhnt