This is an archived article and the information in the article may be outdated. Please look at the time stamp on the story to see when it was last updated.
While the Tennessee Valley got wind and rain Tuesday night, a few very intense storms produced tornadoes in West Alabama.  The National Weather Service in Birmingham confirms at least FOUR tornadoes in West Alabama from Tuesday's storms; the strongest was an EF-2 (the one featured in all of the pictures and videos):  Click here for the official survey from the NWS Birmingham.
320PM: 4 confirmed tornadoes so far…2 in Pickens (Aliceville & Ethelsville), 1 in Fayette (Ashcraft Corner), 1 in Lamar (Beaverton) #alwx

— NWS Birmingham (@NWSBirmingham) February 3, 2016
Here are some damage photos from the ongoing survey in the McMullen area (Pickens Co) #alwx pic.twitter.com/eJxQU5rfMz

— NWS Birmingham (@NWSBirmingham) February 3, 2016
Storm reports from Tuesday's storms in Mississippi and Alabama loosely fit the characteristics described by the Storm Prediction Center's "ENHANCED RISK."
You can argue that area was too large and created a little too much anxiety; I would not disagree with you, but the message we sent out day after day was this: don't fear it, it's not a major severe weather day for the Tennessee Valley.  That's a mixed message when you see hype all over social media, schools are closing, etc.
I even broke my own rule about talking about tornadoes because I felt I had to address the pictures and hype flying around social media.  (That rule is that I don't use the word "tornado" unless I'm sure it's a threat.)  I'd be interested to hear how you feel about dealing with severe weather "threat" information that literally changes every 12 hours for seven straight days.  I personally think it's too much too soon (look at the fearful comments on my Facebook page for plenty of examples); however, just the same way parents tell teenagers to be careful on the road every time they leave the house, even a small risk of impactful weather has to be addressed.
There has to be a better way than these outlook and model graphics that clog up our newsfeeds for days on end, and I think that way is simply this: find ONE person or ONE group you trust, stick with them, and ignore everything else.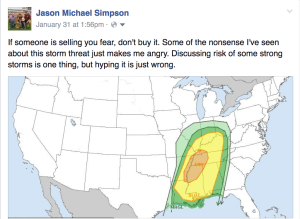 We pride ourselves on straight talk on social media and on television.  You can scan back through my statements and videos and see a lot of things like the screenshot of a post from Sunday.
There are a lot of professionals and non-meteorologists (call them weather enthusiasts, weather weenies or whatever) that shoot straight, too.
There are some that will tell you anything to get a page "like" and a "share."  Be careful of things that sound too fantastic or too extreme.  Find ONE person or ONE group you trust and stick with them.
-Jason
Connect with me!
Facebook: Jason Simpson's Fan Page
Twitter: @simpsonwhnt