This is an archived article and the information in the article may be outdated. Please look at the time stamp on the story to see when it was last updated.
Happy Independence Day! A few scattered thunderstorms remain possible through the evening hours; expect heavy rainfall and frequent lightning, and wind gusts could get higher than 35 miles per hour in the stronger storms through 10 PM.
Most fireworks shows Wednesday evening should be rain-free, but a nearby storm could cause a delay for a few of them in North and Central Alabama as well as southern Tennessee.
Track heavy storms with WHNT.com's Interactive Radar or swipe over to the radar feature on Live Alert 19!
Thursday looks hot and humid: highs around 91ºF with a feels like above 100ºF again. Storms increase later in the week, and the heat starts backing down a little. The first three days of July ran just over 3ºF above average; we'll be running a little below average with a good chance of scattered heavy thunderstorms by Friday and the weekend.
Weak cool front brings numerous storms: Cool fronts are in short supply in the South this time of year, but we get one – albeit a very weak one – on Friday. It may not have much 'punch' with cool, dry air, but it is enough to kick off widespread thunderstorms; those storms should be enough to beat back the heat for a few days: Friday, Saturday and Sunday.
Some storms on Friday may be severe with high winds, frequent lightning, and rain heavy enough to cause some minor flooding!
It won't get cool and comfortable, but temperatures back down to the 80s for highs with limited sunshine and a good chance of scattered storms through the weekend.
Saturday and Sunday: The weak front stalls over North Alabama this weekend. Storms are more likely south of the front in Central Alabama on both Saturday and Sunday; however, some isolated storms are still possible north of the front across the Tennessee Valley and into Middle Tennessee.
Storms look more likely on Saturday and thinner on Sunday, but in both cases, there will be enough cooling influence from clouds and rain to keep temperatures a touch below average for early July.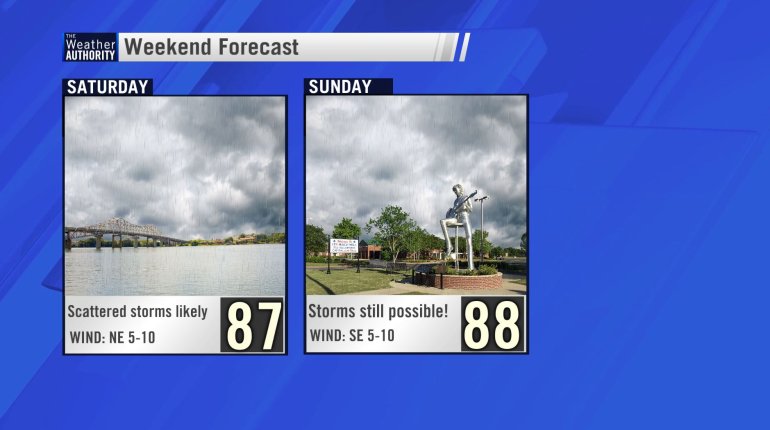 Next week: Afternoon thunderstorms become few and far between on Monday, Tuesday and Wednesday, but it's still humid enough for a chance of an isolated storm or two. Rain looks more likely late in the week with high temperatures rebounding into the lower and middle 90s again from Wednesday to Friday.
Need some specifics about the weekend or next week? They're always online at WHNT.com/Weather and in the "Daily Forecast" section on Live Alert 19!
-Jason
Connect with me!
Facebook: Jason Simpson's Fan Page
Twitter: @simpsonwhnt