This is an archived article and the information in the article may be outdated. Please look at the time stamp on the story to see when it was last updated.
Isolated thunderstorms continue through the early evening; some of them get heavy at times producing a lot of rain, wind gusts over 30 MPH and frequent lightning.
Where it does not rain it's just hot; expect temperatures in the upper 80s and lower 90s through 9 PM with only a small chance of any one spot getting rain. Wednesday starts out warm and humid, but a better chance of afternoon showers and storms keeps the excessive heat down a little: low-90s between 1 and 4 PM.
The chance of rain improves for the rest of the week! Several waves of showers and locally-heavy thunderstorms pass over North Alabama and Tennessee through the weekend. While individual storms can do a lot more than one inch of rain, we do expect most communities in and near the Tennessee Valley to pick up as much as 0.75" to 1.50" of rain on average through Sunday.
Track heavy storms with WHNT.com's Interactive Radar or swipe over to the radar feature on Live Alert 19!
How do we get this rain? Up front, this is not a 100% chance of an everybody-gets-soaked kind of rain. We expect daily coverage of showers and storms to be about as high as it has been all summer long from Wednesday to next Monday. In that time-frame, there is a very good chance that most communities around here see at least 0.75" of rain from at least one single thunderstorm. If you end up getting multiple storms, your total could be much higher.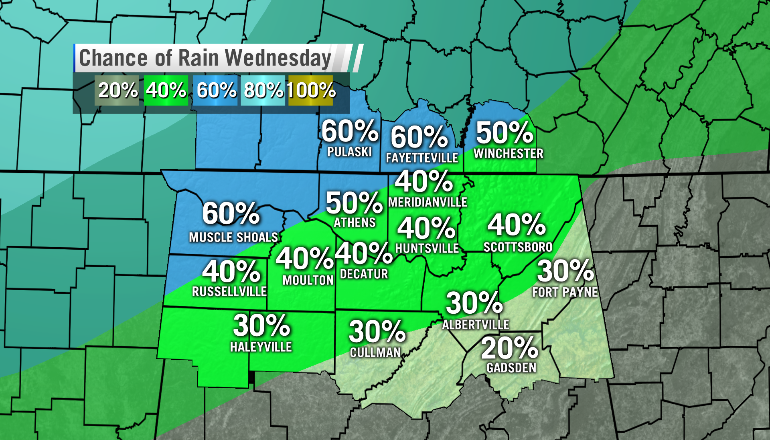 Weekend washout? No. We don't expect it to rain all weekend; however, weak upper-air disturbances may kick off 2-3 waves of showers with some embedded heavier thunderstorms Saturday afternoon and evening and again on Sunday afternoon/evening.
See the specifics on the Tennessee Valley's forecast for the next 7-10 days by clicking over to WHNT.com/weather or swiping to the "Daily Forecast" on Live Alert 19.  Choose individual days for more than just three numbers and a picture!
-Jason
Connect with me!
Facebook: Jason Simpson's Fan Page
Twitter: @simpsonwhnt