This is an archived article and the information in the article may be outdated. Please look at the time stamp on the story to see when it was last updated.
A few isolated storms for now, more widespread storms late in the week
Spotty storms this time of year bring heavy rain to a few, but many miss out on it on any given day. Individual storms can drop more than an inch of rain on one neighborhood while one across town stays dry. That's the kind of pattern we expect through midweek; storms become more widespread (and heavy) on Thursday and Friday.
Hot weather backs down some after tomorrow. Wednesday's high gets to the lower 90s again with a heat index between 95ºF and 100ºF. Better coverage of rain and thunderstorms as well as shade from clouds keeps temperatures in the mid-80s on Thursday and Friday.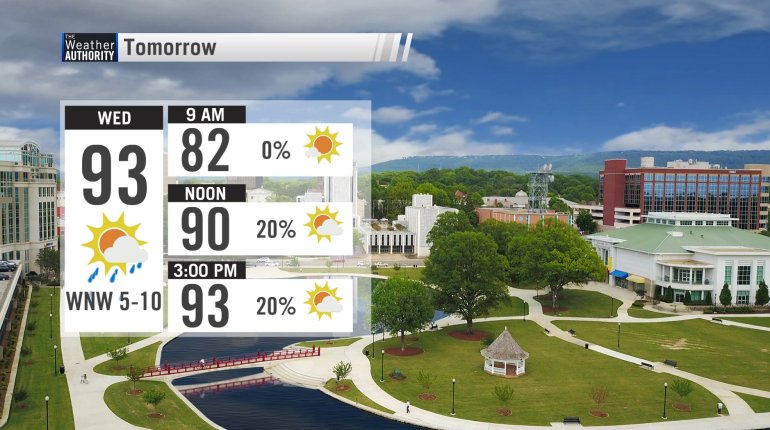 Changing weather pattern: It got hot fast on Tuesday! The heat index at 11 AM was already 95ºF and climbing. A strong 'ridge' nearby is keeping it hot and suppressing (but not eliminating) storms for now, but that feature weakens and has less influence on our weather through the weekend.
That means temperatures come down and rain chances go up!
A slow-moving upper-air disturbance moves in from the northwest Thursday tapping into deep tropical moisture; that enhances the coverage (and intensity) of afternoon and evening thunderstorms through the end of the week.
Track heavy storms with WHNT.com's Interactive Radar or swipe over to the radar feature on Live Alert 19!
Weekend outlook: It stays hot and humid for the weekend, but we'll also see a better-than-average chance of some scattered thunderstorms on Saturday: especially south of Huntsville and Decatur through Central Alabama.
Storms thin out some on Sunday, but there's still a good chance of a few locally-heavy downpours scattered here and there.
Need some specifics about the weekend or next week? They're always online at WHNT.com/Weather and in the "Daily Forecast" section on Live Alert 19!
-Jason
Connect with me!
Facebook: Jason Simpson's Fan Page
Twitter: @simpsonwhnt