This is an archived article and the information in the article may be outdated. Please look at the time stamp on the story to see when it was last updated.
Father's Day featured a few heavy storms in the afternoon, with scorching heat and humidity in between.  Our current weather pattern is one that holds on tight, so Monday brings more of the same!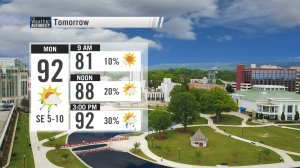 We'll start off with temperatures in the low 70s near sunrise with some patchy fog possible. Then we're back into the low 90s by the afternoon with a 'feels like' temperature in the upper 90s. That heat and humidity could work together for a few more afternoon storms too, again mainly between 2PM and 6PM.
The Heat Is On! A weak disturbance just above the surface will help kick up hit-or-miss storms again Monday afternoon before moving off to the northeast. With that disturbance out of the way the ridge of high pressure that was over the Southeast last week will build in again.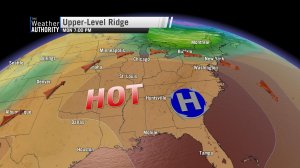 That keeps storm chance slim, but we still can't rule out a few pop-up storms with the heating of the day Tuesday and Wednesday. With fewer storms around it gets hotter again! Temperatures rise into the low 90s through the middle of the week; when the humidity is factored in the 'feels like' temperature climbs into the upper 90s each day this coming week.
Summer Officially Begins: The summer solstice occurs this coming Thursday, but you might already be used to summer like weather! Our weather pattern won't change much this week either. In fact, the last half of June is looking quite similar to how the first half has gone.
That ridge that helps keep more widespread storms at bay looks to break down through the end of the week. That could open the door to more numerous thunderstorms Thursday and Friday, which would in turn knock high temperatures back into the upper 80s to near 90 each day.