This is an archived article and the information in the article may be outdated. Please look at the time stamp on the story to see when it was last updated.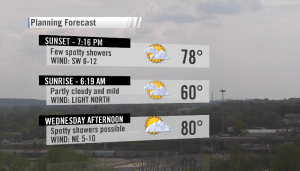 Scattered showers and a few isolated thunderstorms remain possible this evening, but we do not expect widespread, plan-disrupting rain or storms.
Total rainfall in a few spots may add up to more than a tenth or quarter-inch, but most of us get little to nothing at all.
A weak cool front passes through the Valley tonight ending the chance of showers for most of us by daybreak; however, some additional showers (isolated storms) are possible Wednesday afternoon and evening generally southeast of Madison and Morgan Counties toward Brindlee Mountain, Sand Mountain and Lookout Mountain. Expect highs near 80ºF Wednesday afternoon with a light northeast breeze.
Spotty showers in a summer-like pattern: The weather pattern this week looks like summer; it may not be hot enough for a real summertime feel yet, but the features influencing our weather are very much like what we would see in June or July.
That means we cannot totally get rid of the chance of a few spotty, hit-or-miss, brief showers and/or thunderstorms through the Easter Weekend. On the other hand, the odds of rain are so low that you should not cancel any plans.
One of the best ways to keep track of showers and isolated storms is with WHNT.com's Interactive Radar or swipe over to the radar feature on Live Alert 19! Live Alert 19 gives you notice when precipitation is getting close to your location to you can roll up car windows, adjust your lunch plans, or just get out of the way of any brief passing showers.
The chance of rain on any given day for the rest of the week stands somewhere between slim and none, but it's just high enough to be aware of the chance of a little rain.
Need some specifics about the Easter weekend or next week? They're always online at WHNT.com/Weather and in the "Daily Forecast" section on Live Alert 19!