This is an archived article and the information in the article may be outdated. Please look at the time stamp on the story to see when it was last updated.
A few storms Wednesday grew into whoppers around The Shoals! More scattered showers and some locally-heavy storms are possible on Thursday, but our best chance of the week comes up on Friday.
Thursday starts out gray but dry; clouds creep in ahead of a large surge of warm, muggy air headed northbound from the Gulf of Mexico. The influx of moisture alone should be enough to kick off more scattered showers and storms Thursday: especially in the afternoon and early evening from Cullman to Albertville to Fort Payne and points south. Expect a high Thursday in the upper-80s; the odds of rain stand at roughly 30% for the Huntsville area, but the chance is higher near Brindlee, Sand and Lookout Mountains.
A wetter weather pattern sets in: The first in a series of more efficient rain-producing systems moves into the region Friday. A cold front sliding across the Tennessee Valley Friday afternoon produces numerous showers and thunderstorms, and some of them could drop some heavy rain and potentially produce some strong wind gusts.
The Storm Prediction Center outlines a narrow area across Tennessee and Northwest Alabama where a few isolated 'severe' storms could develop during the hottest part of Friday afternoon. This won't be a widespread severe weather risk, but it is always good to be aware that any single storm that develops could get strong quickly.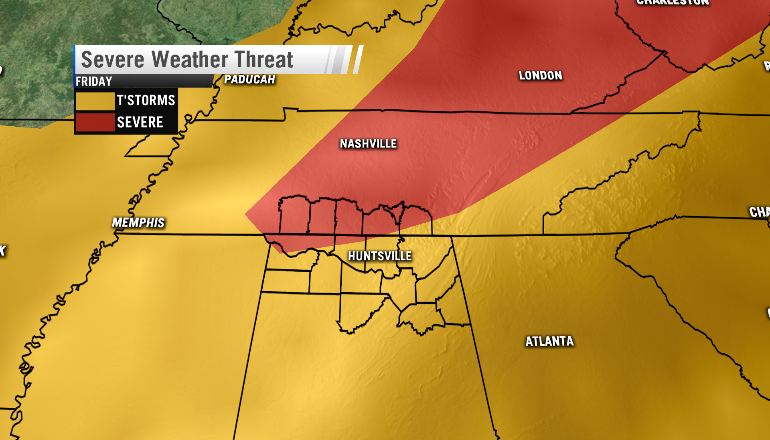 The cold front moves south of the Valley Saturday, but it surges north again Sunday bringing another good round of showers and some thunderstorms in the afternoon and evening. The rain/storm potential likely increases overnight into Monday morning, so we will keep the chance of rain in the 40-50% range for both days.
More showers and spotty thunderstorms develop on a daily basis next week. In all, we may see as much as 4-6" of rain in isolated spots; most of us pick up around 2-3" on average, but the uneven nature means a wide range of possibilities for any one community.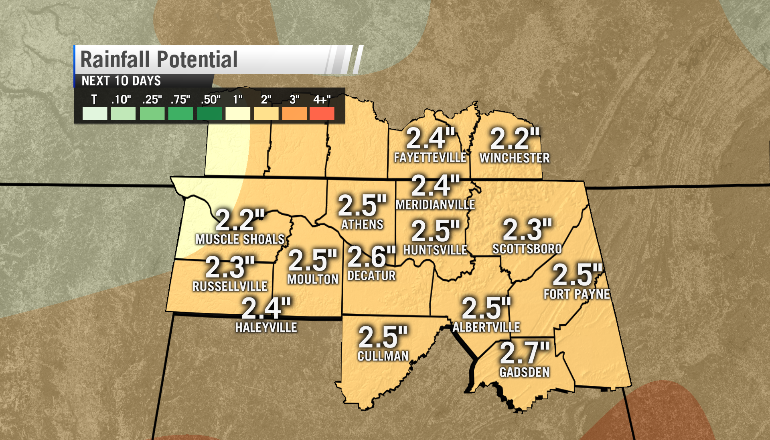 Need some specifics about the weekend or next week? They're always online at WHNT.com/Weather and in the "Daily Forecast" section on Live Alert 19!
-Jason
Connect with me!
Facebook: Jason Simpson's Fan Page
Twitter: @simpsonwhnt