This is an archived article and the information in the article may be outdated. Please look at the time stamp on the story to see when it was last updated.
MOBILE, Ala.– The confusion surrounding the Storm Prediction Center's (SPC) convective outlooks seems to get worse every time there is a threat for severe weather.
Numerous tornadoes touched down across an area from southern Louisiana, across south Mississippi and down into the Florida panhandle on Monday.
Yesterday's prelim EF3 at Century, FL is the first F/EF3+ in the panhandle since 4/19/88. @NWSMobile @NWSSPC #flwx pic.twitter.com/KwQL3Qb8Zc

— UAH SWIRLL (@UAHSWIRLL) February 16, 2016
The strongest tornado from Monday touched down in the far northwestern corner of the Florida panhandle and tracked into southern Alabama. This tornado was rated as an EF-3 by the National Weather Service Office in Mobile. The tornado packed winds of over 150 miles per hour and was on the ground nearly 17 miles.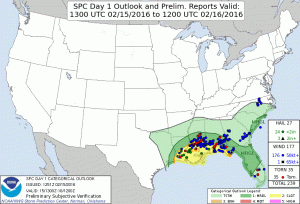 The SPC outlook issued at 7 a.m. Monday had the areas listed above included in a slight risk of severe weather.
So was this a bad forecast? The short answer is a definitive no, but I think we've got to do away with the word slight completely.
An outlook is a small part of a larger hierarchy of products issued by both the Storm Prediction Center and National Weather Service. Outlooks are issued up to eight days in advance of severe weather; watches are issued up to a few hours before severe weather; and warnings are issued after storms have already formed.
The system above worked wonderfully on Monday. To the average person, however, having numerous tornadoes touch down in an area where a "slight" risk of severe weather had been drawn (and calling it a good forecast) just doesn't sound right.
It's important to understand the SPC has specific criteria for which outlooks they issue. On Wednesday, October 22, 2014, the SPC expanded its outlook categories from four to five.
The outlooks are all based on how concentrated the severe weather reports are expected to be– they have nothing to do with the expected intensity of the storms.
For example, a slight risk is issued when the SPC denotes a five percent chance of a tornado within 25 miles of a given point, or when there is a 15 percent chance of a severe hail or wind report within 25 miles of a point.
In this case, don't think about these percentages in the same way you do rain chances. Five and 15 percent sound low, but when it comes to verifying individual severe weather reports, it's higher than you might realize.
Here is where I feel like the root of the problem lies: there is a marked difference in what SPC defines as "slight" versus what that same word means to the average person. Merriam-Webster's dictionary defines slight as having little importance; or very small in degree or amount. To most, hearing "there is a slight risk of severe weather" means they probably don't need to worry. In Monday's situation, however, it's clear that is simply not the case.
A 2014 survey where participants were asked to rank the SPC categories from highest risk to lowest risk showed significant confusion, especially between marginal and slight.
In a February 2012 interview with WHNT News 19, SPC Warning Coordination Meteorologist Greg Carbin said, "[Many] products that come out of SPC are really meant for other meteorologists and people with some knowledge of meteorology [like] decision makers, emergency managers and people who are skilled at understanding meteorological jargon."
I'm not sure what the right answer is. At WHNT News 19, we use two levels for our severe weather outlooks. The data is the same from the SPC, but we feel having people decipher between "severe" and "not severe" is much easier than sorting through five categories that many people don't fully understand to begin with.
While outlooks play a very important role in the overall severe weather process, you should only pay attention to watches and warnings once severe weather starts happening.
-Jake
Connect with me!
Facebook: Jake Reed's Fan Page
Twitter: @jakewhnt19