This is an archived article and the information in the article may be outdated. Please look at the time stamp on the story to see when it was last updated.
OKLAHOMA CITY – A shallow layer of Arctic air moving south into the Great Plains will set the stage for a significant icing event starting Friday and lasting through the weekend.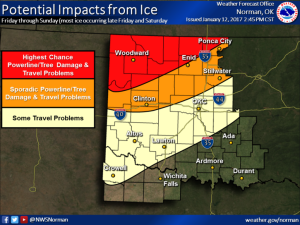 Overnight Thursday, moisture from the Western Gulf of Mexico will move northward over the Southern Plains that will overrun the Arctic front producing rain/freezing rain over the northern edge of the precipitation shield over the Southern Plains into Middle Mississippi Valley by Friday morning.
As the moisture continues to move northward over the Plains, the area of rain/freezing rain will extend into the Western Ohio Valley and extend into the Central Appalachians/Mid Atlantic by Saturday morning.
The National Weather Service has posted an ice storm warning from western Illinois back into northern Oklahoma. A freezing rain advisory and a winter storm watch border the southern and northern edges of the ice storm warning.
The National Weather Service Office in Kansas City, Missouri said there was potential for a "long duration winter storm as precipitation in the form of freezing rain impacts the lower Missouri Valley. The potential exists for significant icing across the area, which will make travel extremely hazardous."
Road Conditions
Looking for the Tennessee Valley forecast? Click here.