This is an archived article and the information in the article may be outdated. Please look at the time stamp on the story to see when it was last updated.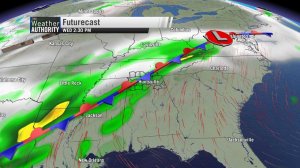 A rather slow moving storm system will approach from the west and push a cold front into the Valley Wednesday evening. This front will stall out over North Alabama through Thursday.
The truly messy weather will hold off until at least Wednesday afternoon, with the heaviest coming overnight through Thursday morning. This is when locally heavy downpours and storms become likely (after midnight through noontime Thursday).
Ahead of this the National Weather Service has issued a Flood Watch for Lauderdale, Colbert, and Franklin Counties in North Alabama.
Flooding Potential: As the front stalls near the Valley we'll see wave after wave of rain move through. Altogether we're expecting 1-3 inches rain, but pockets of 4 inches are not out of the question.
All of this rain is expected to cause at least minor flooding of rivers and some flash flooding in low-lying areas. With that in mind, you should plan alternative routes for any commutes you may have.
Download Live Alert 19 and use our interactive radar to track the rain and stay updated on the latest advisories regarding the flood threat!
Any Storm Threat? Storms are likely to develop, mainly on Thursday. The main risk still looks like heavy downpours, but gusty winds over 40 mph and some small hail are both possible too.
Severe storms (60+ mph winds and large hail) are unlikely in the Valley, but not impossible. We'll be watching anything that develops closely. The risk of severe storms will be primarily focused on Southern Alabama and Mississippi over the next two days though.