This is an archived article and the information in the article may be outdated. Please look at the time stamp on the story to see when it was last updated.
One week ago, the forecast called for rain – and a lot of it.
So how did it work out for you?  It all depends on where you are and how you interpreted the forecast.
We like to say that a forecast is more than three numbers and a picture on a chart with fourteen boxes; there are ideas to be conveyed that pictures and numbers can't always describe at first glance.
Here's what we wrote on our blog last Tuesday (8/14).  Pay close attention to the highlighted areas:
Need some rain?  A slow-moving, relatively weak storm system drags a cool front toward North Alabama late this week.  The front lingers around through Saturday and Sunday while more weak 'impulses' (wave of energy embedded in the jet stream) drift overhead.  There's not enough 'push' to get the front all the way south of us this weekend, so we'll stick with a chance of some scattered showers and thunderstorms the whole way: Thursday through Sunday and even Monday of next week.

Forecast from 8/14/2018

Several waves of rain and thunderstorms are likely in that timeframe.  That helps multiply the effects of the hit-or-miss nature of the downpours.  Spots getting 3 or 4 brief heavy bouts of rainfall could quickly get more than 1-2″ of rain in a single day.  On the other hand, there are still going to be some spots that don't get all that much!

Forecast model guidance pictured below shows around two inches of rain on average; however, modeling is built on a grid that has 18 miles between individual grid points (that's where these numbers come from).  Thunderstorms are smaller than that grid, so it's doing its best to smooth it all out into a picture that fits what the weather should do. Spots getting 3 or 4 brief heavy bouts of rainfall could quickly get more than 1-2″ of rain in a single day.  On the other hand, there are still going to be some spots that don't get all that much 

GFS 'Futurecast' rainfall potential over the next seven days. This is day after day of spotty storms added up to one final number (data from 8/14/2018)

What does that mean to you?  It means the specific numbers here are a literal computer guess at what it could be.  You should expect something in that ballpark over the next seven days, but that specific number or specific placement is not to be taken as the literal 'forecast' for a spot.  This particular model has been a little aggressive with higher-end rainfall amounts this summer, so you could also look at this as your best-case (or worst-case depending on your viewpoint) for rainfall.
HOW IT TURNED OUT…
The GFS (American medium-range model) was onto something, but some might say it was 'on something' given how it smoothed out all of the 'convection' (thunderstorms) into a broad 2-3″ rainfall that did not happen for the majority of North Alabama and Tennessee: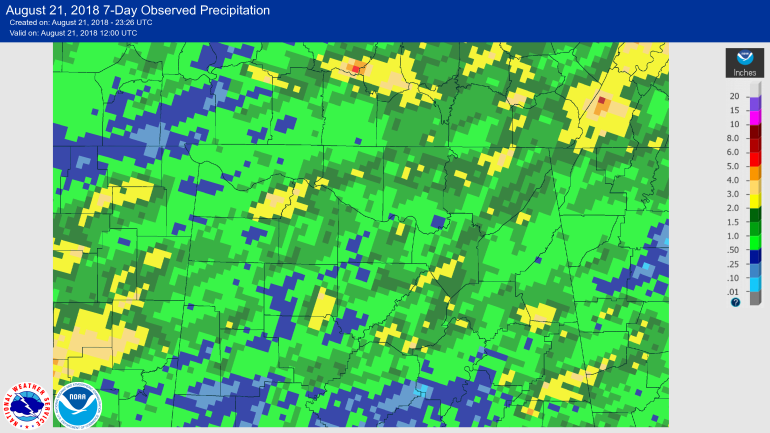 Sure.  Some got it and it looked perfect, but there's a lot more light green (less than 1″) on the map than yellow or orange (more than 2″).
That's a perfect example of why three numbers (high, low, rain chance) and a picture can't tell you everything meaningful about a forecast.
And while we're at it, summertime thunderstorms are relatively easy to forecast on one hand but next-to-impossible on the other. It's fairly easy to identify an environment over the space of a few counties where storms are possible; it's practically impossible more than 4-6 hours in advance to 'know' precisely where one will rain out a ballgame or exactly what time a downpour could rain on a wedding or a party.
Weather forecasts are intended to be a heads-up on conditions that are possible or expected; there are no crystal balls that give us insight beyond our own experience and data.
Speaking of the forecast…need some specifics about the weekend or next week? They're always online at WHNT.com/Weather and in the "Daily Forecast" section on Live Alert 19!
-Jason
Connect with me!
Facebook: Jason Simpson's Fan Page
Twitter: @simpsonwhnt