This is an archived article and the information in the article may be outdated. Please look at the time stamp on the story to see when it was last updated.
Nearly twelve degrees: that's how far below average we've been since Monday. This kind of cold is not totally in left field for November, but it is not all that common (roughly 2 or 3 times per decade).
A warming trend began Wednesday afternoon, but you'll notice the chill wearing off a little more each day through the weekend until we're close to 70ºF on Saturday and Sunday.
Thursday and Friday will feature more clouds than sunshine, so the warm-up may not feel all that 'warm.' Daytime highs in the mid-50s to low-60s will feel more seasonable (and tolerable) for the end of the week.
The weekend: what about storms? Wild temperature swings this time of year can bring some nasty weather with them. The Storm Prediction Center outlines an area just west of Alabama where some severe storms will be possible Friday into early Saturday. The *ENHANCED RISK* is well west of us:
There's still a borderline, low-end risk of some active storms in North Alabama as this system passes through Saturday; however, at this point we think most of us will just get some rain and gusty winds Saturday morning with a slim chance of some scattered storms in the afternoon and early evening.
The Storm Prediction Center has the *SLIGHT RISK* south of the Tennessee Valley on Saturday!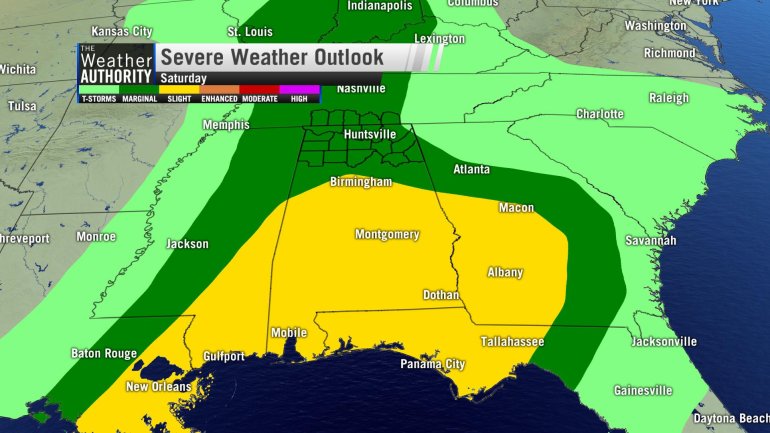 We'll be watching it carefully, but at this time there's no reason to consider changing plans unless your outdoor activities require perfectly dry, sunny weather on Saturday!
Sunday looks drier, partly to mostly cloudy and unusually warm: highs in the 65ºF-70ºF range with a south-southwest breeze up to 20 miles per hour.
Looking for the rest of the forecast? It's always online at WHNT.com/Weather and in the "Daily Forecast" section on Live Alert 19!
-Jason
Connect with me!
Facebook: Jason Simpson's Fan Page
Twitter: @simpsonwhnt