This is an archived article and the information in the article may be outdated. Please look at the time stamp on the story to see when it was last updated.
We expect an unusually high-end risk of severe storms for this time of year on Friday, Friday night and early Saturday morning: very high wind gusts, large hail, heavy rain, intense lightning and even a risk of brief tornadoes.
The afternoon outlook from the Storm Prediction Center shows a *SLIGHT* to *ENHANCED* risk of severe weather in North Alabama and Southern Middle Tennessee in the Friday/Saturday timeframe; that's a statistical outlook.  The enhanced risk is pushed a little east at 12:34am CDT Friday morning. The derecho we had on June 28th with wind gusts as high as 100 miles per hour came in a SLIGHT RISK as well (just for reference).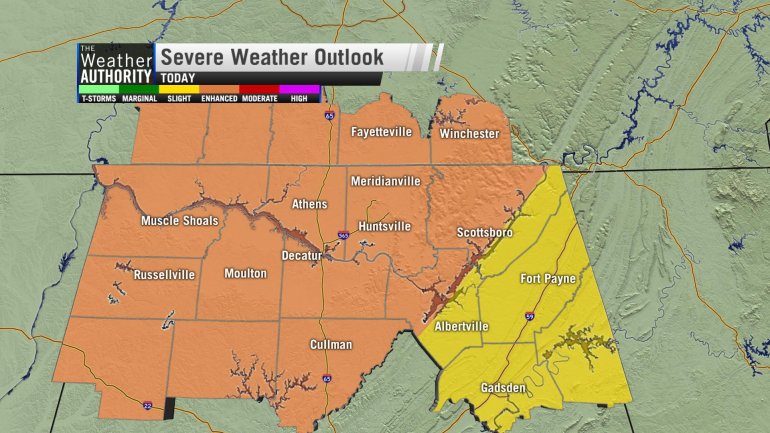 TIMELINE:
Precise timing down to when a storm would hit a neighborhood cannot be determined yet; however, we do expect the first heavy storms of the day (Friday) to begin in Tennessee in the early afternoon and move south-southwest into North Alabama between 4 PM and 8 PM.  This is more of a 'chance' than a certainty.  The more widespread, significant wave blows in later Friday night.
The 'main' wave that has the highest potential for severe storms likely comes in between 10 PM Friday and 5 AM Saturday.
WHAT WE EXPECT:
High wind gusts: a 'severe' storm has to have wind gusts at 58 miles per hour or higher.  Some model guidance suggests isolated 70-80 mile per hour gusts.
Tornado risk: it's low but not zero.  You may see charts floating around on social media showing 'STP' (significant tornado parameter) that look scary; that modeled severe weather parameter is not extremely useful for this kind of weather pattern.  Think of it this way: a crescent wrench is a great tool unless the job requires a Phillips head screwdriver.
Flash flooding: a few areas may see more than 2-3" of rainfall Friday and Friday night.  That could produce some localized flooding.
Lightning: we know of at least four lightning strike victims in North Alabama this summer.  We have seen house fires from lightning, trees damaged, and a lot of power outages from it.  Lightning will be a danger from these storms, so stay indoors and be aware of the risks if lightning strikes your property.
Track heavy storms with WHNT.com's Interactive Radar or swipe over to the radar feature on Live Alert 19!
Need some specifics about the weekend or next week? They're always online at WHNT.com/Weather and in the "Daily Forecast" section on Live Alert 19!
-Jason
Connect with me!
Facebook: Jason Simpson's Fan Page
Twitter: @simpsonwhnt