This is an archived article and the information in the article may be outdated. Please look at the time stamp on the story to see when it was last updated.
Huntsville's average daily temperature (highs and lows) since January 10th has run a whopping 20ºF above 'average.' That puts us in 7th place for the warmest January on record so far, and there are still at least 6 or 7 more days of above-normal warmth coming through the next 10 days.
Temperatures stay a little short of record highs for most of this week, but it still won't be feeling like January. Expect a low tonight in the upper 50s with some scattered showers moving into the region.
Rainy days ahead: When you're in a drought, rain is a good thing! Each day of the next seven offers some chance of rain; that does not guarantee every single spot gets the same thing, though.
In the short-term, our better prospects for more than a half-inch of rain comes over Northwest Alabama and Southern Tennessee on Tuesday and Tuesday night. We'll get a drier period Wednesday (few if any showers), then widespread and potentially heavy rain moves back in Thursday afternoon and evening.
That rain moves out early Friday. There is little if any rain coming from Friday afternoon through Saturday afternoon; however, one more batch of widespread heavy, soaking rain is possible Sunday. If we manage to get all of that through here, our seven day rainfall totals may be around two to three inches.
That would be fantastic given that we already have a deficit of 1.68" for January 2017 on top of the 9-10" rainfall deficit carried over from 2016!
Is it really going to get colder? A period of warmth like this can lull us into a false sense of security. Winter is far from over.
Even our warmest January on record (1950) didn't provide lasting warmth through the remainder of the season. February 1950 was seasonably cool (near normal), and March turned much colder. Although there was no snow, there were some very cold days now and then.
We don't see any real threats of winter weather on the immediate horizon, but a pattern shifting toward colder weather in the final week of January and beginning of February certainly could provide some snow or ice.
In fact, several European ensemble members try to give snow-lovers some hope just after February 1st.  I fully realize you can look at a chart like the one below and see whatever you want to see in it; this is a great of example of the uncertainty involved in long-range outlooks.
A few individual model runs will put down as much as 10-12″ of snow; other runs from the same time period give us a big, fat zero.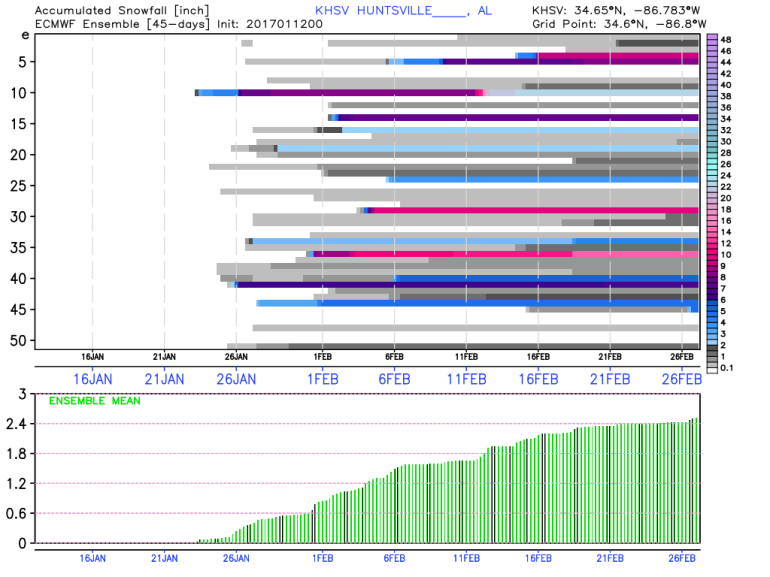 We'll see how it all transpires, but I certainly would not count anything wintry out at this point.
Need some specifics about the weekend or next week? They're always online at WHNT.com/Weather and in the "Daily Forecast" section on Live Alert 19!
-Jason
Connect with me!
Facebook: Jason Simpson's Fan Page
Twitter: @simpsonwhnt