This is an archived article and the information in the article may be outdated. Please look at the time stamp on the story to see when it was last updated.
Scattered storms increase in coverage through early evening around North Alabama and Southern Tennessee, and a few storms could briefly turn severe with wind gusts over 60 miles per hour. Evening storms will not be quite as widespread as they were Wednesday; however, a more widespread area of rain and thunderstorms moves into the region overnight through Friday morning.
A few storms could be severe with gusty winds being the primary threat; the Storm Prediction Center is monitoring Middle Tennessee with a 20% chance of a Severe Thunderstorm Watch: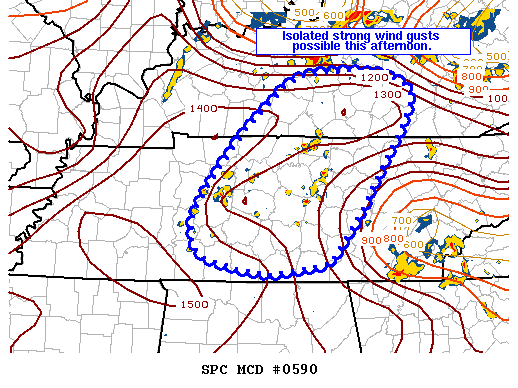 This is not a guaranteed, everybody-gets-soaked setup Thursday evening through Friday morning, but some communities will get more than 1" of rain in the scattered downpours. Another wave of storms develops Friday afternoon and evening; most of those may occur south and east of the Huntsville area where the early-day storms don't have as much of an impact. One more wave of heavy storms moves in Saturday night, and then we'll finally dry out some after that.
Track heavy storms with WHNT.com's Interactive Radar or swipe over to the radar feature on Live Alert 19!
Need some specifics about the weekend or next week? They're always online at WHNT.com/Weather and in the "Daily Forecast" section on Live Alert 19!
-Jason
Connect with me!
Facebook: Jason Simpson's Fan Page
Twitter: @simpsonwhnt