This is an archived article and the information in the article may be outdated. Please look at the time stamp on the story to see when it was last updated.
Another wave of showers and some thunderstorms moves across North Alabama and Southern Tennessee early Thursday, and some of the rain could be heavy enough to cause some temporary flash flooding.  A Flash Flood Watch is in effect for Madison, Marshall, Morgan, Cullman, Jackson, DeKalb, Etowah, Cherokee, Marion (AL), and Winston Counties through 7 PM Thursday.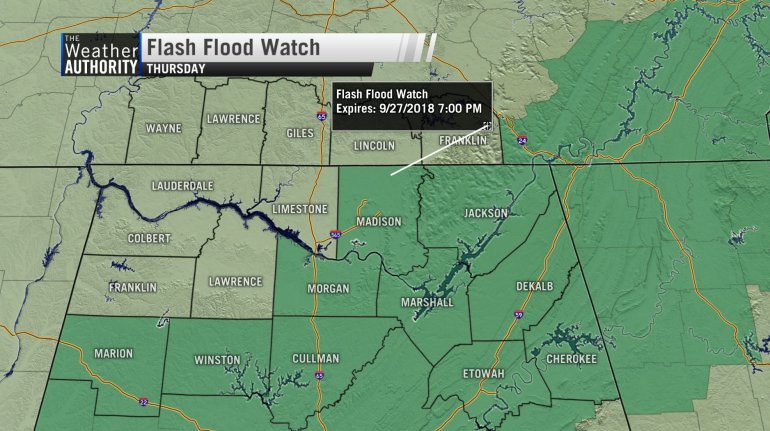 Locally-heavy rainfall still may exceed 1-2″ in a few spots, but the over-all set-up is not quite as widespread as the flood potential was early Wednesday.  It could still be impactful in localized areas, though.
Track heavy storms with WHNT.com's Interactive Radar or swipe over to the radar feature on Live Alert 19!
So how much rain are we talking?
For some of us, very little.  Others, it could be more than two inches; that looks very spotty, though.
Showers finally taper off Thursday afternoon, and other than a slim chance of a few brief, light showers Friday, we have a decent period of dry mostly weather ahead.
Looking for the forecast? It's always online at WHNT.com/Weather and in the "Daily Forecast" section on Live Alert 19!
-Jason
Connect with me!
Facebook: Jason Simpson's Fan Page
Twitter: @simpsonwhnt