This is an archived article and the information in the article may be outdated. Please look at the time stamp on the story to see when it was last updated.
Huntsville, Ala. - While we might be a little disappointed that rain is in the forecast through the weekend, we need to recall that it could be dangerously hotter in the Tennessee Valley this time of year. Recall 2012. It was one of the hottest stretches we've ever had in north Alabama. It was almost as hot as some of the streaks in the 1930s! For nine days the high temperature in Huntsville averaged a whopping 102.1°F! The hottest day was 106°F on June 29. Here is a look at that stretch: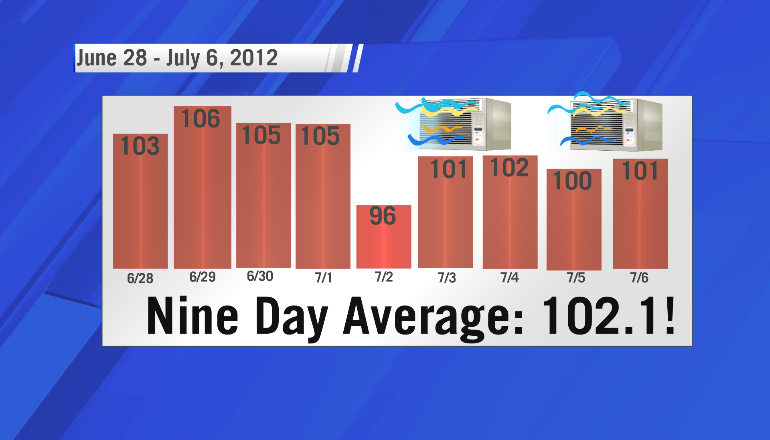 I even received a friendly reminder on Facebook of this event. And that "tomorrow" was 106!
Official high in Huntsville: 103. The Shoals set a record: 105. Even hotter tomorrow.
It wasn't just us in the southeast with record high temperatures. According to the National Weather Service, several cities set all-time records.
Atlanta, GA : 106°F (All-Time Record)
Raleigh, NC : 105°F (All-Time Record)
Charlotte, NC : 104°F (All-Time Record)
Also on this day in 1931, 108°F was the hottest temperature ever recorded in the month of June in Huntsville. Though the hottest part of the summer is late July into early August, it can get steamy as early as May in the Tennessee Valley. We've had stretches of hot weather in the middle 90s in late May recently.