This is an archived article and the information in the article may be outdated. Please look at the time stamp on the story to see when it was last updated.
The concern for wildfires is high this weekend due to high winds and low relative humidity. Both of these factors were brought in partially due to a cold front that moved in this morning. Right behind that front is much drier air; so dry that relative humidity values this afternoon could be as low as 20%-30%.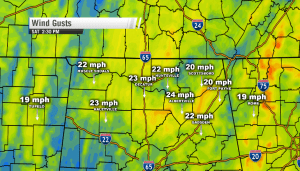 We're also caught between an area of high pressure to the west and Hurricane Matthew to the east, both of which are contributing to a northerly flow. Since the pressure difference between these two features is quite high, the winds between them, where we're located, are quite strong. Winds Saturday afternoon will average from 10-15 mph with gusts up to 20-25 mph.
It doesn't help that the Valley is falling deeper into a drought, so the ground and plants are dry as well.
The Red Flag Warning will be in effect from 1 p.m. – 6 p.m. for areas west of I-65 including the counties of Lauderdale, Colbert, Lawrence (AL), Limestone, Morgan, and Cullman. Burning should be avoided throughout the weekend.