This is an archived article and the information in the article may be outdated. Please look at the time stamp on the story to see when it was last updated.
This is not how it's supposed to be.
The warmest November day on record.  Huntsville and Muscle Shoals hit the upper 80s Tuesday afternoon for the fourth-straight record high.
Wednesday is a sure bet for another record, and Thursday could come close before we get a cool down.
But what about rain?
It's meager at best, and we get nothing at worst.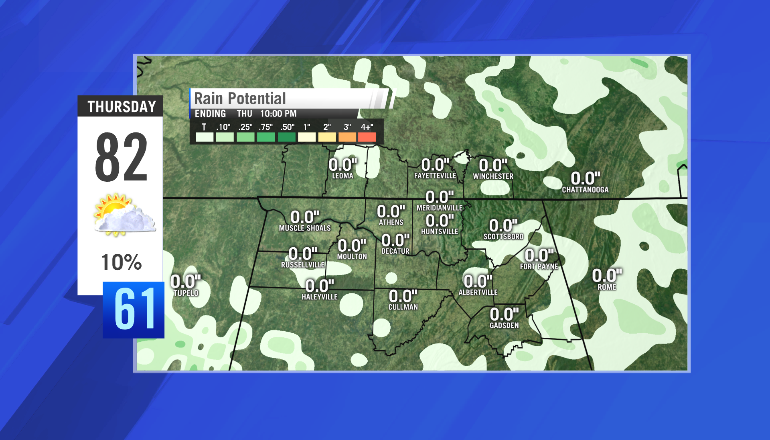 Need some specifics about the weekend or next week? They're always online at WHNT.com/Weather and in the "Daily Forecast" section on Live Alert 19!
Rain next week? What should you make of all the images of models showing rain flying past in your social media feed? It's too soon to know, but there are some indications that a slow-moving potent storm system could bring significant rainfall (1-2" or more) to a large part of the south next week.
Right now in our Live Alert 19 10-day forecast, you'll see a 10% chance on Wednesday and a 60% chance on Thursday. That means we are confident that measurable rain happens late next week; the difference between "measurable" and "significant" are night and day. The latest American-run GFS guidance brings up to 2" of rain between next Wednesday and Friday; the latest European ECMWF guidance flattens that down to a few tenths of an inch.
Regardless, it's too soon to make plans based on that chance of rain. It's hope for those who desperately need it, but it is not a guarantee.