This is an archived article and the information in the article may be outdated. Please look at the time stamp on the story to see when it was last updated.
Huntsville and Muscle Shoals hit record highs Wednesday:
Huntsville: 90ºF (record was 90ºF in 1926)
Muscle Shoals: 91ºF (record was 89ºF in 2005)
Wednesday evening looks warm and mostly dry; there's a small chance of a shower or two tonight.
Thursday morning starts warmer and more humid than a usual October morning would: temperatures in the middle and upper 60s, a cloudy sky, and some showers already moving into the region before the sun rises. Rain gear is a must at the bus stop; whether it rains or not at your place in the morning, rain is on the way for the afternoon and early evening. It gets very warm one more time with a high in the lower 80s before the more widespread showers and storms move through the Valley.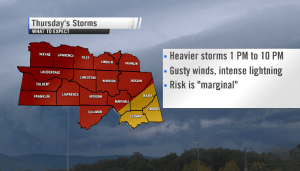 Severe weather threat? There's buzz out there. Maps flying all over social media describe an "isolated severe thunderstorm threat." This is nothing to get worked up about; however, a few individual thunderstorms could be strong enough to produce strong winds, very heavy rain, and frequent lightning.
We do not anticipate a Severe Thunderstorm Watch, and the odds of a warning for any one spot is very low.
Track heavy storms with WHNT.com's Interactive Radar or swipe over to the radar feature on Live Alert 19!
What time, how much? There is a chance of rain all day Thursday. Some spotty showers – and even a storm or two – are possible from 3 AM to 11 AM. Rain coverage looks very uneven through the first half of the day, so while you may be lucky enough to get a quick downpour, most of us stay dry until the afternoon and evening.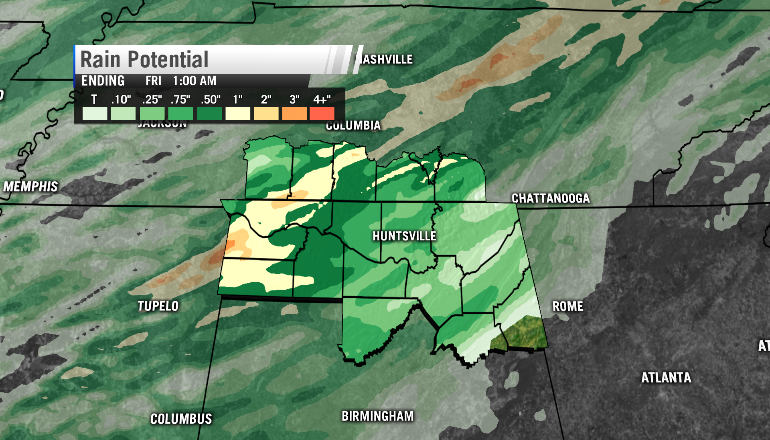 The best chance of rain comes for The Shoals between 1 PM and 4 PM; in Huntsville, Decatur, Athens, Cullman and Fayetteville, it's closer to the 4 PM to 7 PM time frame. Unfortunately, we cannot guarantee everyone gets rain – especially in Northeast Alabama. The best chance in Blount, Marshall, Jackson, DeKalb, Etowah and Cherokee Counties comes from about 5 PM to midnight. The line of showers and storms could fall apart before bringing the first drop of rain to several northeastern Alabama communities.
Football Friday: The air behind this cold front looks crisp, cool and bone dry for high school football this week! You will finally want to wear a jacket this Friday with kick-off temperatures in the 50s and a chilly north breeze at 5 to 10 miles per hour. Schedules, videos, coverage from previous weeks and specific game forecasts for Football Friday can be found here on WHNT.com!
Need some specifics about the weekend or next week? They're always online at WHNT.com/Weather and in the "Daily Forecast" section on Live Alert 19!
-Jason
Connect with me!
Facebook: Jason Simpson's Fan Page
Twitter: @simpsonwhnt