This is an archived article and the information in the article may be outdated. Please look at the time stamp on the story to see when it was last updated.
When it comes to rainfall, east Texas just cannot catch a break.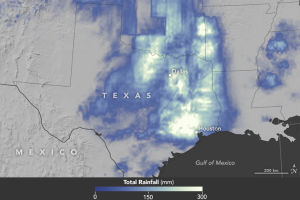 The image at right is a satellite-based estimate of the record-breaking rainfall that fell over the Lone Star State between April 15 -18, 2016. The brightest shades on the map correspond to the heaviest rainfall, as much as 300 millimeters, or about 12 inches of rain.
During the time of the heavy rainfall, high pressure over the Southeast blocked appreciable rain from moving into Tennessee Valley, and instead that rain stalled over Texas. Round after round of thunderstorms developed over the state, fueled by the warm and humid air from the Gulf of Mexico. Houston's George Bush Intercontinental Airport picked up 9.92 inches of rain on April 18, shattering the daily rainfall record set in 1976.
Abnormally high amounts of rain continued to fall in May, causing as many as four people to perish from the rising floodwaters.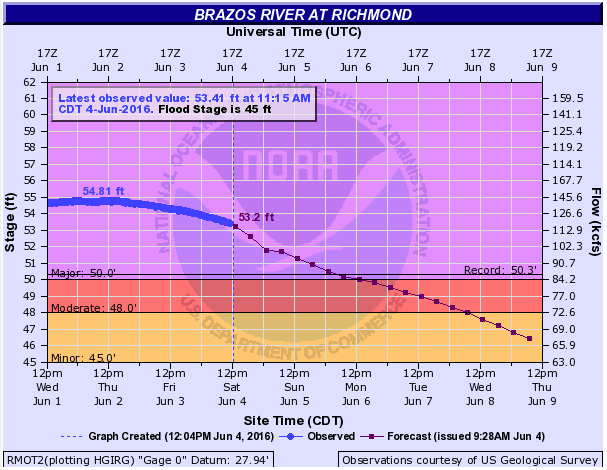 Such heavy rainfall has caused the nearby Brazos River to crest at 54.81 feet near Richmond, Texas, a record-breaking level unseen in over a century according to Reuters. For comparison, anything above 50 feet is considered major flooding.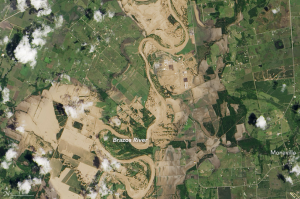 Satellite imagery from NASA's Earth Observatory shows low-lying areas in the vicinity of the river inundated by floodwaters on May 28, 2016.
In contrast, the image below it was taken on May 4, 2016, after a few weeks of relatively lower rainfall. The image shows the Brazos River as a narrow band of water that flows within the river banks.
Flash forward to the first week of June, and eastern Texas continues to face major flooding concerns. Within the first three days of June, Houston's Intercontinental Airport has recorded an additional 9.40 inches of rain.
River levels are expected to remain high over the next few weeks due to additional rainfall as well as runoff from swollen reservoirs releasing excess water.