This is an archived article and the information in the article may be outdated. Please look at the time stamp on the story to see when it was last updated.
A weak cool front passed south of the Tennessee Valley region Tuesday evening taking most of the showers and thunderstorms with it.
The air gets slightly drier behind the front: from a high dewpoint of 79ºF Tuesday afternoon to a lower dewpoint of around 68ºF by Wednesday afternoon. 'Dewpoint' is a better measure of how sticky it feels than relative humidity; the higher the number (especially over 70ºF), the thicker the humidity feels. That drier air makes it feel a little better even though it's still hot on Wednesday and Thursday, and it also reduces the chance of rain to around 10% or less through Thursday night.
It's both the heat and the humidity: At 1 PM Tuesday, Huntsville International Airport reported a dewpoint at 79ºF. An air temperature of only 89ºF made it feel like 104ºF outside.
Less humid air takes over for the next two days, but the temperature actually climbs a few degrees in the afternoons with fewer clouds and showers in the region. Expect highs between 89ºF and 92ºF, but this time the heat index won't be much of a factor – at least it won't until Friday!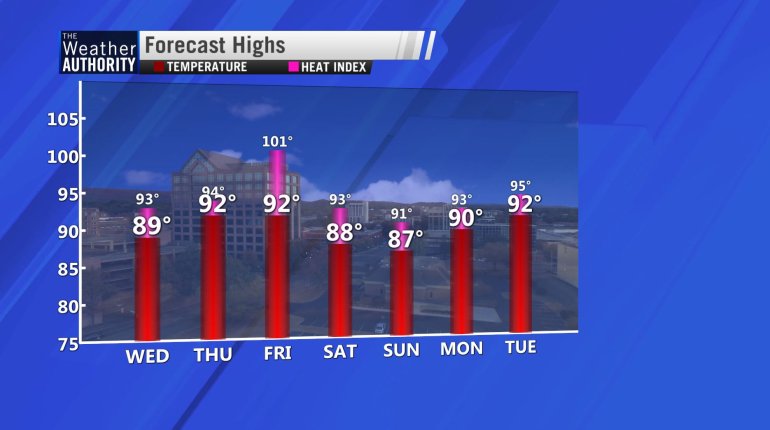 By the way, Huntsville's 79ºF dewpoint on Tuesday is not quite a record, but it's among the highest in the record books!  The highest?  July 18, 2010: 82ºF!
Next wave of stormy weather: The last time Huntsville recorded more than three-straight days without measurable rain was a ten-day period from June 2nd to June 11th. Wednesday and Thursday look mostly rain-free, but we'll see more scattered thunderstorms developing on Friday and Saturday.
FRIDAY: some scattered showers/storms are possible in the morning, but the best chance of more widespread storms comes in the evening, overnight and into early Saturday. Some severe storms are possible in the late Friday/early Saturday timeframe; we'll keep you posted!
SATURDAY: Storms are most likely before 10 AM, but a few more could develop in the afternoon/early evening particularly south and east of the Huntsville area.
Some slightly drier air moves in again on Sunday and Monday reducing the chance of rain to the standard 'hit-or-miss, pop-up' showers/storms.
Some hotter weather again soon? The highest temperature of the year so far in Huntsville has only been 96ºF with a heat index of 108ºF. Muscle Shoals has hit 98ºF with a heat index at 108ºF. There will be a sharp dividing line between some very hot weather just west of us and some slightly cooler air just to the north next week; it's too early to tell exactly where one leaves off and the other picks up, but at the very least there is a good chance of 90-degree heat lasting all the way through next week with a chance of a few isolated storms each afternoon.
Need some specifics about the weekend or next week? They're always online at WHNT.com/Weather and in the "Daily Forecast" section on Live Alert 19!
-Jason
Connect with me!
Facebook: Jason Simpson's Fan Page
Twitter: @simpsonwhnt