This is an archived article and the information in the article may be outdated. Please look at the time stamp on the story to see when it was last updated.
There's a lot of buzz about the weather around here for the rest of the week: rain, storms, and snow all possible between now and Saturday morning.
From our Forecast Discussion:
Light drizzle Thursday morning won't add up to much, but as it gets more widespread and heavy, some communities could see over two inches of rain this evening into Friday morning.  There is a risk of strong to severe storms in Central and South Alabama; it just looks like rain and thunder in the Tennessee Valley. We've already had several severe thunderstorm warnings and even a tornado warning Thursday morning in Louisiana.

A winter storm watch remains in effect for areas north and west of us….also far east. There is still a question on snowfall amounts here in the Tennessee Valley. That's why we aren't under a watch yet. Expect a watch/warning or an advisory to be used this afternoon or Friday morning for most of the area. There is a specific criteria for each. Lesser amounts, we'll get a Winter Weather Advisory. If we are expecting 2″ or more, we'll get a Winter Storm Warning.

Image generated at 3 PM, 1/20/16

Most of North Alabama falls in the expectation of about 1-3" on the grass, cars, and rooftops.  Travel may be impacted Friday afternoon and evening, and that could last through Saturday as additional snow showers move through the region. (Amounts are difficult to determine and are subject to change because of the track and intensity of the upper level low. See below!)

"First Guess" snowfall forecast – this can and likely will be adjusted
That's a lot to take in.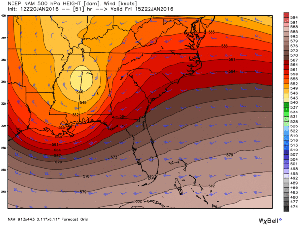 This bout of active weather comes courtesy of what I like to call the "grab bag" of storm systems: the upper-air low.
It's a grab bag because you just never have 100% confidence in exactly what you'll get.  Sure, you know what things are possible, but there's a lot of "surprise" to it as well.
The animating map here shows the upper-low getting stronger as it moves east across Alabama and Tennessee.  A strengthening upper-low can do some amazing things: severe storms, excessive rain, and because it manufactures it's own cold air, snow and even thunder snow.
The Bottom Line: This is the kind of system that can have a big impact – especially on travel for a few hours.  Cold air rushing in behind it means whether we get several inches or just a fraction of an inch of snow, slushy/icy roads are possible Friday night and Saturday morning.
The change-over should happen by late Friday morning in The Shoals, midday in Huntsville/Decatur/Fayetteville, and early afternoon in Northeast Alabama/Winchester area.
The information in this post may (likely WILL) become outdated; please see our forecast discussion on WHNT.com for the latest ideas on this developing situation.
-Jason
Connect with me!
Facebook: Jason Simpson's Fan Page
Twitter: @simpsonwhnt