This is an archived article and the information in the article may be outdated. Please look at the time stamp on the story to see when it was last updated.
Rain tapers off early Thursday morning; that early-day rain accounts for most the 'rain chance' Thursday (only 10%). Most of the day looks dry; however, we won't see a lot of sunshine. Temperatures could briefly go up toward the mid-70s Thursday afternoon should the clouds break in a few spots for more than 60 to 90 minutes! More rain comes in by Friday and for the weekend, too.
Remember this?  I thought it would be fun to see just how well a single forecast model would do – you know – to show how unreliable those really, really long range forecasts can be…
Turns out the GFS threw a 'Hail Mary' from the other goal line, because that's darn-near an exact hit on temperatures for Thursday!  We'll do this again one day soon and see if it can do it again!
Drought to Flood: It did not take long to squash the talk of developing drought! It has rained at least a 'trace' at Huntsville International ten times in the past fourteen days; it only rained (or snowed enough) to amount to that eleven times in the entire month of January.
There is literally a chance of some rain each day of our Seven Day Forecast and beyond. In fact, 15-day rainfall potential is in the neighborhood of 4 to 7 inches for most of North Alabama and as high as 8 to 10 inches in Middle and West Tennessee. Remember, that's over a 15-day period. It's impressive, but it's not unheard of around here. It's basically a month's worth of rain on top of what we already have in the first two weeks of February.
Huntsville averages 4.94" of rain in February. As of 2 PM Wednesday, we'd already tallied up 4.68" at the airport. Tack on another five inches, and that would put us in roughly the sixth-wettest February on record (since 1907). The wettest (rainiest) was in 1939 when we got a whopping 12.52 inches.
Might this lead to more flooding in the region? It's certainly possible; however, the devil is always in the details: how fast the rain comes, what conditions are like before heavy rainfall, etc. We'll be on the lookout, but right now there are no imminent threats.
Cold before Spring arrives?  That's a big 'probably.'  While the GFS model plot from my Facebook page did pretty well, it actually stunk it up badly for the first half of the month by showing loads of cold weather that never came.
Now, we find ourselves looking at a flip back to colder weather (at least that's the higher-end probability) for March: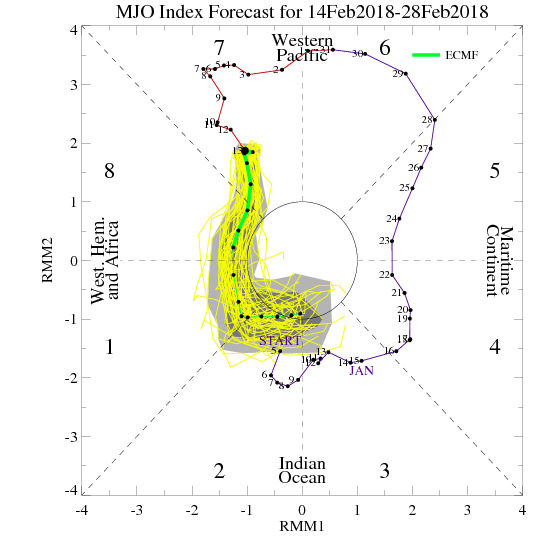 Want to learn more about the Madden-Julian Oscillation's general implications on the weather in the US? See the research from NOAA's Climate Prediction Center here.
In fact, we're already seeing modeling in the very, very long range showing cold air spilling south again.  Winter isn't over, but January is usually king when it comes to snow around here.  March averages 0.5″ of snow in Huntsville (1981-2010 climatology).
North Alabama has missed out on a lot of the 'good snow' this season!
Will March bring anything significant wintry-wise? The odds are low, but never zero with the crazy weather we can have in late Winter and early Spring!
Need some specifics about the weekend or next week? They're always online at WHNT.com/Weather and in the "Daily Forecast" section on Live Alert 19!
-Jason
Connect with me!
Facebook: Jason Simpson's Fan Page
Twitter: @simpsonwhnt