This is an archived article and the information in the article may be outdated. Please look at the time stamp on the story to see when it was last updated.
Temperatures took a nose-dive Thursday morning, but it won't be quite as cold on Friday morning!  Expect morning lows around 45-50ºF with a partly to mostly cloudy sky by sunrise.  The day starts out dry, but rain becomes likely in the afternoon and evening.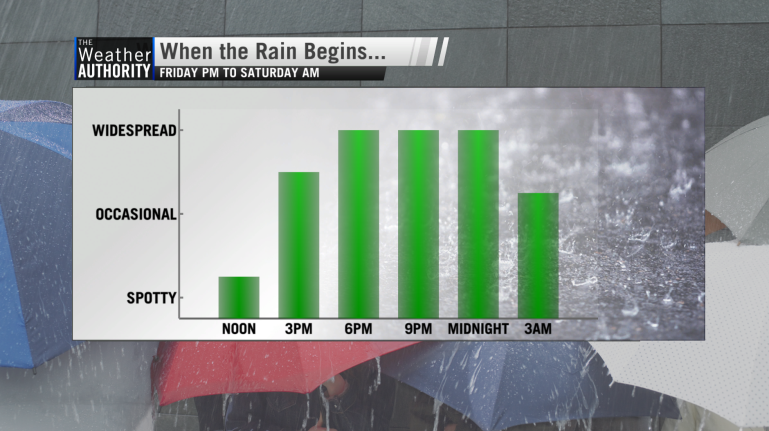 Some locally heavy rain and thunderstorms develop Friday evening through early Saturday morning; there's even a small chance of a few strong storms mainly southwest of Huntsville and Decatur toward west-central Alabama and eastern Mississippi between 6 pm Friday and midnight (12 am) Saturday.  Colder air follows the rain for the weekend, and there's a good chance temperatures plunge below freezing again by Sunday morning.
Severe storms possible: The Storm Prediction Center outlines a *MARGINAL* Risk of severe storms for Friday evening in North Alabama; however, the greater risk is west of us into Mississippi, Arkansas, and Louisiana.
A *MARGINAL* Risk means a few isolated severe storms are possible: not that widespread severe weather is 'likely.'  We'll be on the lookout for a few strong wind gusts from storms between 7 PM and 10 PM then again from midnight to about 3 AM Saturday.
Once the storms pass, a cold front brings some unseasonably chilly air into the region.  Expect Saturday's high to happen early in the day: after that a big plunge.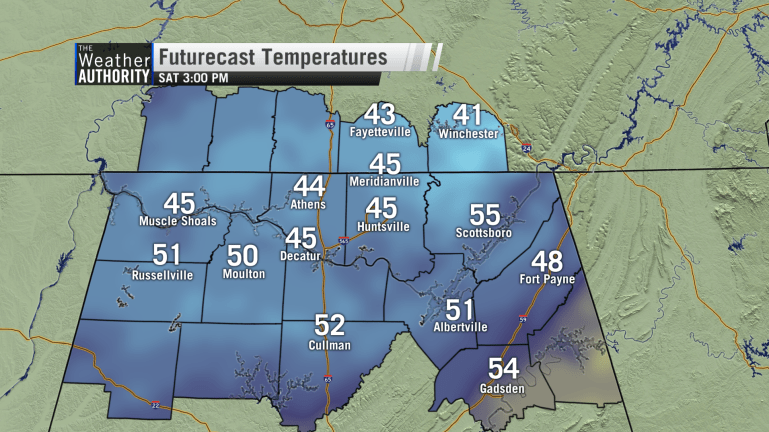 Temperatures drop into the 40s with a brisk wind Saturday afternoon, and we likely get a freeze on Sunday morning.
Need more specifics about the weekend or next week? They're always online at WHNT.com/Weather and in the "Daily Forecast" section on Live Alert 19!
-Jason
Connect with me!
Facebook: Jason Simpson's Fan Page
Twitter: @simpsonwhnt