This is an archived article and the information in the article may be outdated. Please look at the time stamp on the story to see when it was last updated.
Rain is thinning out Sunday, but that doesn't mean that the impacts from Saturday's rain is over. Flash flooding has subsided across most of the Tennessee Valley, but any roads/parking lots with poor drainage could still be flooded.
This includes the Indian Creek Community in Southwestern Madison County, which is prone to flooding during rain events. An Areal Flood Warning will be in effect across that area through 1PM Sunday.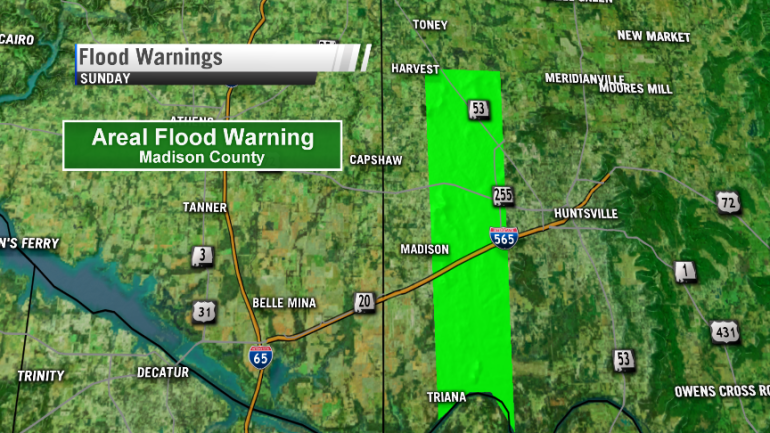 Flooding of roads and yards will subside as the rainwater runs off into creeks and rivers. This effect has already caused swelling of local streams. A Flood Warning is in effect for the following river locations through Monday afternoon:
The Flint River at Brownsboro
The Tennessee River at Florence
The Big Nance Creek at Courtland
The Paint Rock River near Woodville
A River Flood Warning means that flooding along the river is imminent or occurring.
If you come to a road covered by water, turn around immediately; there is no way of knowing if the water contains debris or what the condition of the road is like under the water. Even as flooding subsides, be aware that roads will still be wet and visibility will remain low from developing fog.
A weak cold front will swing through overnight, taking most of the lingering rain with it. That will set us up for a much nicer day on Monday, although your yard will still be a muddy mess! Temperatures start in the low 40s Monday morning and rise into the mid 50s for highs Monday afternoon. By the afternoon skies will be partly cloudy with just a slim chance of a stray shower still around.