This is an archived article and the information in the article may be outdated. Please look at the time stamp on the story to see when it was last updated.
Is it going to snow or not? The short answer is 'yes, it probably will snow a little.' The long answer? It's more complicated than a simple yes or no because there are some margin-of-error ideas in the model guidance that are on the borderline between some decent snow and sleet and nothing but rain.
That borderline battle between the wet vs. frozen precipitation stays close by all weekend long; most of the time, we expect North Alabama to be on the slightly-to-warm for snow side of it, but there may be some periods (especially as the rain kicks in Saturday morning and again Sunday afternoon through Monday) where we end up on the colder side of it.
The situation isn't set in stone yet, so expect some adjustments. They will be needed as we see how that 1ºF to 2ºF differential plays out in the few thousand feet above our heads.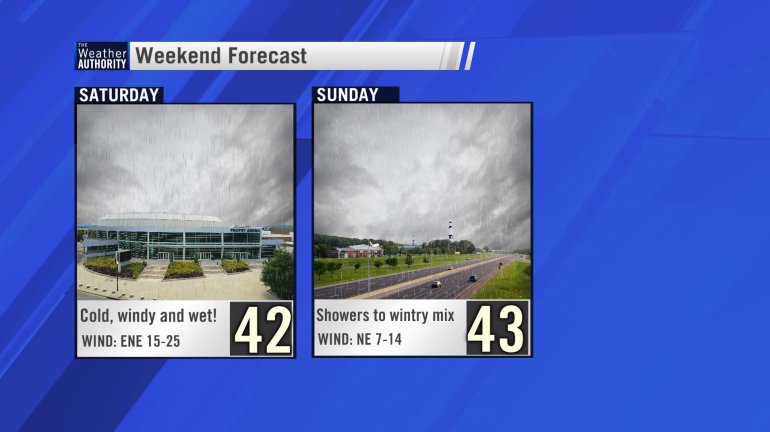 What to expect this weekend: Number One: expect rain and a lot of it. Over two inches of rain are not just possible; we expect it to rain that much.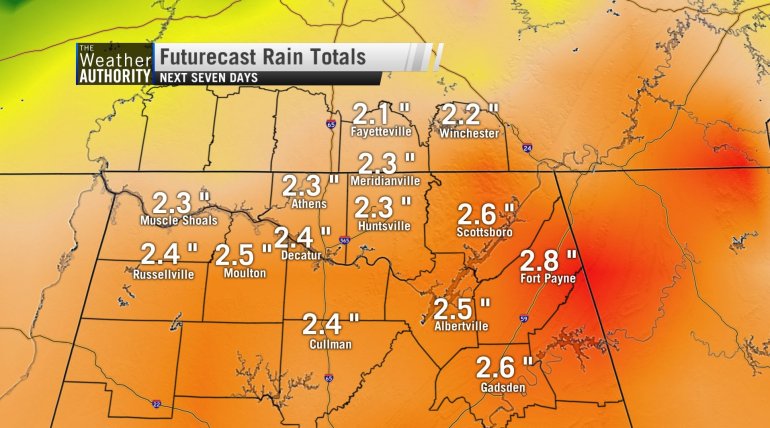 Number Two: it's going to be cold. How cold? Not excessively cold. Not 'Arctic' cold. Just cold and wet: highs in the low-40s, lows only in the upper 30s to around 40ºF. Not cold enough for major accumulating ice or snow unless that 1-2ºF difference a few thousand feet up shifts toward the colder and turns this into a heavy, dumping snow. That's unlikely, but it is a possibility: no matter how remote it may be.
When is this changeover going to happen? For some of us, it won't change over at all. The farther south you are, the less likely it is that you'll get anything other than some flurries late Sunday night or Monday. The farther north you are from around Highway 72 northward into Tennessee, the more likely it is that you'll see a switch to either all snow or a sleet/snow mix with leftover, lighter precipitation Sunday afternoon and evening.
Another disturbance passes with some snow showers (some that might be heavy enough for some minor accumulations) Monday morning. Temperatures still look to be a bit too warm for major problems unless the precipitation turns out to be heavier than current expectations lead us to believe.
What are my odds? Huntsville has measured snow in December only 34 times since 1894. A stat like that should tell you the odds are low but not zero regardless of any particular setup. That's why we are skeptical: it doesn't happen often! That averages out to a little less than once every three years over the period of record; however, since 2000, Huntsville has measured snow (more than a dusting) only four times.
Our best friend in longer-range guidance is the ensemble. Ensembles are multiple 'runs' of the same model with slightly altered initial conditions to account for data inaccuracies or errors that the model begins working with. Thursday morning's GEFS ensemble gives hope to the snow-lover, but it doesn't leave you with any real confidence that snow is 'likely' this weekend in North Alabama. Three of twenty ensemble members show at least a fraction of an inch of snowfall. One shows up to two inches. Eleven of twenty show at least some snowflakes to a dusting. Nine show zero snow at all.
Unless there's a major shift toward snow in the model guidance or we see trends to our west that dictate a change in thinking (both can happen), you won't see any strongly-worded forecasts for this area calling for heavy snowfall.
Looking for the forecast? It's always online at WHNT.com/Weather and in the "Daily Forecast" section on Live Alert 19!
-Jason
Connect with me!
Facebook: Jason Simpson's Fan Page
Twitter: @simpsonwhnt