This is an archived article and the information in the article may be outdated. Please look at the time stamp on the story to see when it was last updated.
HUNTSVILLE, Ala. (WHNT)– An Arctic area of high pressure settling into the northeast United States has brought the coldest air of the season to parts of the Great Lakes, the northern Midwest and into the New England.
Being on the southern fringes of the Arctic airmass, we got a taste of the cold air Saturday afternoon; Huntsville only reached 39 degrees.
The precarious part of the forecast for the next storm system approaching later tonight is that it is moving in just as the coldest of air is moving out.
As moisture begins moving in from the northwest this afternoon, patches of light rain may affect far northwest Alabama as early as midday. With enough cold air in place, some light sleet is possible near and north of U.S. Highway 64 in southern Tennessee (Waynesboro– Lawrenceburg– Pulaski– Fayetteville– Winchester).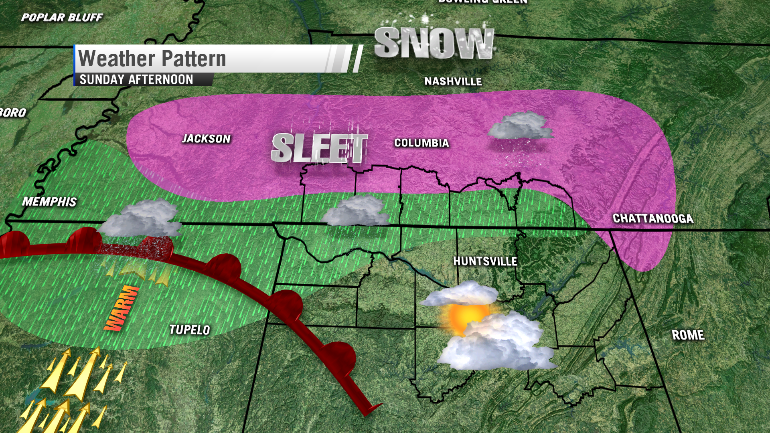 Keep in mind, the airmass in place now is not only cold, it is bone dry. Due to how dry the air will still be, it may be hard for anything to reach the ground until very late this afternoon or early evening.
Even with the possibility of some light sleet near the Valley, guidance suggests temperatures at the surface will be above freezing as moisture moves in. Any travel issues should be limited to areas along Interstate 40, where winter weather advisories have been posted. It should also be noted that a winter storm watch is in effect for the mountains of northern Georgia.
There are no winter weather-type advisories in effect for any part of the Tennessee Valley, and we don't expect any to be issued.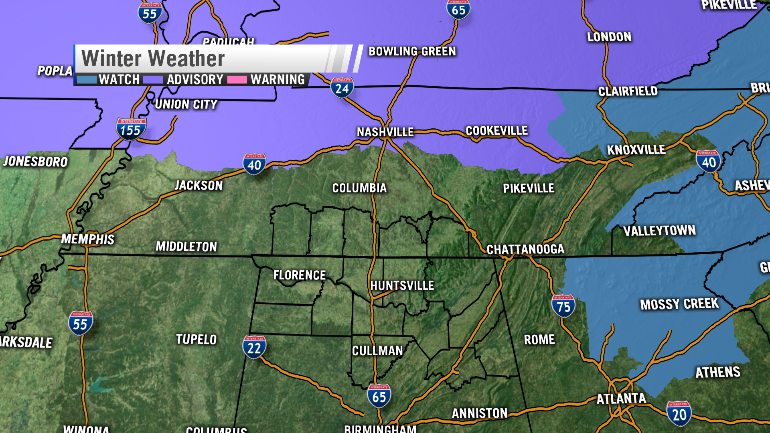 We don't expect significant rain to move into the Valley until after midnight into early Monday morning.
As low pressure tracks across north Alabama, the atmosphere will warm at all levels, ensuring that anything that falls during the day Monday will be liquid rain.
The rain may come down heavy at times during the day. We expect widespread areas of at least one inch of rain, though some areas may see over two inches of rain. Depending on how quickly the rain falls, some brief flash flooding may occur, but we don't expect that to be a major issue.