This is an archived article and the information in the article may be outdated. Please look at the time stamp on the story to see when it was last updated.
Some stay wet, some stay dry as scattered storms continue
Thick tropical humidity is here to stay, and that means more daily hit-or-miss, unevenly-distributed, some-get-it-and-some-don't showers and thunderstorms.
A few isolated showers linger this evening and tonight, and more spotty wet weather is coming on Thursday.
The greater rainfall potential stays south and east of the Huntsville area on Thursday and Friday; that's where the pipeline of tropical moisture is most active. Rain chances are much lower west of the Huntsville area into The Shoals through the end of the week. Whether you get the rain or not, the persistent canopy of clouds keeps temperatures in check: highs in the mid-80s on both Thursday and Friday. It's going to get hotter and drier quickly from the weekend into the first part of next week, though!
Who gets the rain? It rained an incredible 7.04 inches in Gadsden Wednesday evening (4.03" of that in only 51 minutes)! Huntsville International recorded 0.32" Wednesday, Aldridge Creek in South Huntsville shows 1.12", and a whole lot of other spots have zeroes in the rain record for Wednesday.
This is summer; storms are scattered and uneven. That means even a higher-end chance of rain can't be looked at as a total rainout of a day. We get periods of showers, and thunderstorms don't typically last more than 90 minutes on a given day.
The best chance of rain on Thursday and Friday exists near the Alabama/Georgia border. Some spotty showers and storms are possible west of Huntsville through Northwest Alabama, but the odds of getting rain at your place look relatively small.
Weekend weather: The tropical pipeline eases up a little this weekend as a ridge ('high') over the western Atlantic builds westward over Alabama. That will limit afternoon thunderstorm activity, but it won't totally squash the chance!
The odds of rain Saturday are around 30%; Sunday is around 20%. So, a handful of storms may develop around North Alabama and Tennessee this weekend, but you should not cancel any plans for outdoor work, activities, etc. You might have to adjust for a little while if a passing storm moves in, but there's no reason to cancel anything as of now.
Heat builds, storms again: Fewer storms over the weekend and early next week allow for some hotter days! Expect highs in the upper 80s and lower 90s through Monday; we'll peak with a high of 95ºF (and a heat index over 104ºF) on Tuesday ahead of some potentially-stormy weather with a weak cool front by the middle of the week.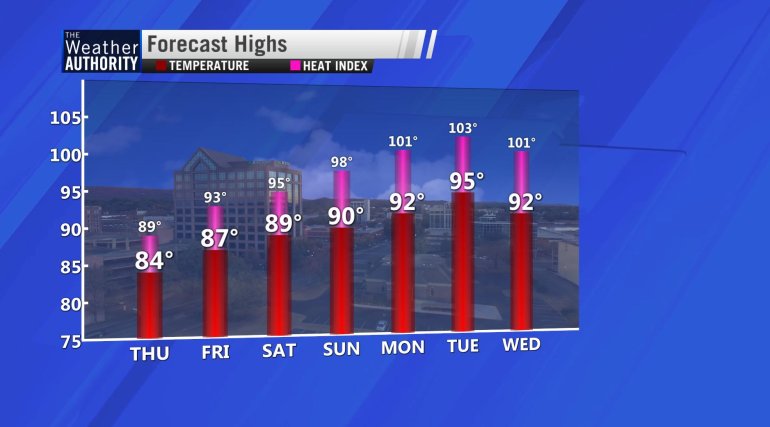 Need some specifics about the weekend or next week? They're always online at WHNT.com/Weather and in the "Daily Forecast" section on Live Alert 19!
-Jason
Connect with me!
Facebook: Jason Simpson's Fan Page
Twitter: @simpsonwhnt