This is an archived article and the information in the article may be outdated. Please look at the time stamp on the story to see when it was last updated.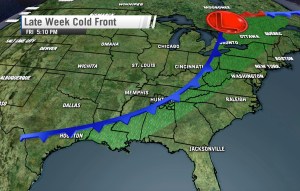 The high school football regular season ended on a dry, cool note last Friday night, but we have a whole different set of circumstances for round one of the playoffs!
There will be enough instability for some thunderstorms, but we do not expect the kind of wind shear and dynamics that would bring a threat of severe thunderstorms on a large scale. A storm becomes "severe" when winds exceed 58 MPH or hailstones larger than a quarter (one-inch diameter) fall.
Read more at Valleywx.com