This is an archived article and the information in the article may be outdated. Please look at the time stamp on the story to see when it was last updated.
We quickly go from the cold-and-dry to the warm-and-humid by the end of the week. That warm-up begins Wednesday as temperatures gradually recover into the mid-40s under a sunny sky; we get to the 50s Thursday and 60s on Friday. That warming trend brings in a chance of some showery weather for the end of the week, but our best chance of rain and some heavy thunderstorms comes Saturday.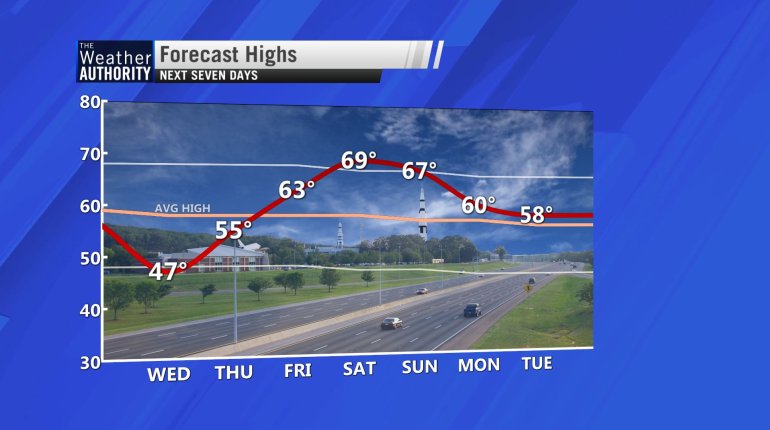 Warm, stormy weekend: Fast-paced weather patterns like this will always feature some day-to-day adjustments to the short and medium range forecast. It's a natural part of adjusting to what we see coming; however, sometimes the adjustment is more of an all-out delete it and start over kind of process.
We don't see major changes to the weekend forecast yet: temperatures well above average for this time of year, a good chance of rain and some storms on Saturday, and a warm day with some spotty showers on Sunday.
So what's adjustable about this? The risk of severe weather.
The Storm Prediction Center has a *slight risk* for severe storms west of us on Friday.
Confidence is lower on Saturday in Alabama and Tennessee because the over-all storm system creating the rough weather gets a little disjointed: main mechanical processes (dynamics) that produce storms move to the east while the fuel (thermodynamics) are lagging behind. That usually means a lesser – but not zero – risk of severe storms.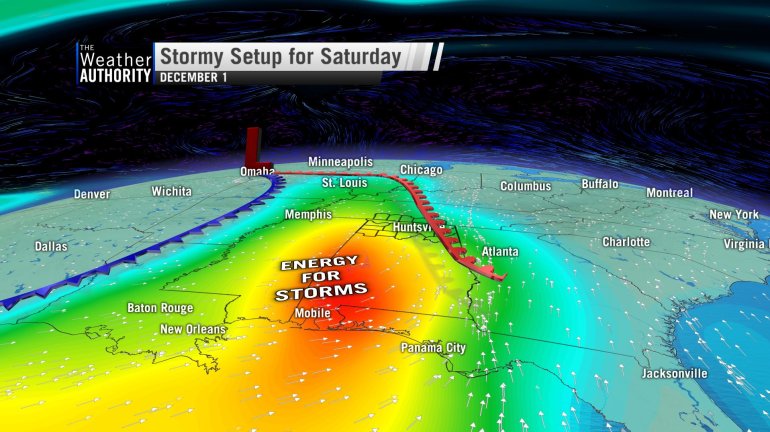 So what can you look for this weekend? Showers begin Friday, the wind brings in very warm, unstable air for Saturday, and some heavier rain and storms are likely. Will they be severe? Hard to tell right now. When will you know? We'll have a better handle on all of it in the next 72 hours.
The bottom line is that it will rain on Saturday, and there is a chance of some heavy thunderstorms. Pay close attention to the weather over the next few days as we make those expected adjustments to the forecast!
Looking for the forecast? It's always online at WHNT.com/Weather and in the "Daily Forecast" section on Live Alert 19!
-Jason
Connect with me!
Facebook: Jason Simpson's Fan Page
Twitter: @simpsonwhnt