This is an archived article and the information in the article may be outdated. Please look at the time stamp on the story to see when it was last updated.
Hurricane Michael made landfall Tuesday afternoon as a high-end Category Four storm near Mexico Beach, Florida; the wind gusted as high as 129 miles per hour at Tyndall Air Force Base, and we've just begun to get a feel for how bad the damage is in Northwest Florida.
Michael weakens to a Tropical Storm strength Thursday morning and moves northeast toward the Carolinas: likely dumping up to 6 inches of rain along the way.  Since the storm is east of Alabama and Tennessee, it's enhancing the push of cool, dry air in behind a cold front.  Showers along that front move out early Thursday, and a fresh northwest breeze kicking up to 20 miles per hour at times gives us our first 'Fall feeling' day of October so far!  Expect highs in the 70s Thursday afternoon and a cool evening for the hand full of high school football games being played Thursday night.
How cool will it get? For some, it's going to get cold, but 'cold' is relative this time of year. October's average temperature over the first nine days was a solid 13.0ºF above average, and we were just at 90ºF four days ago.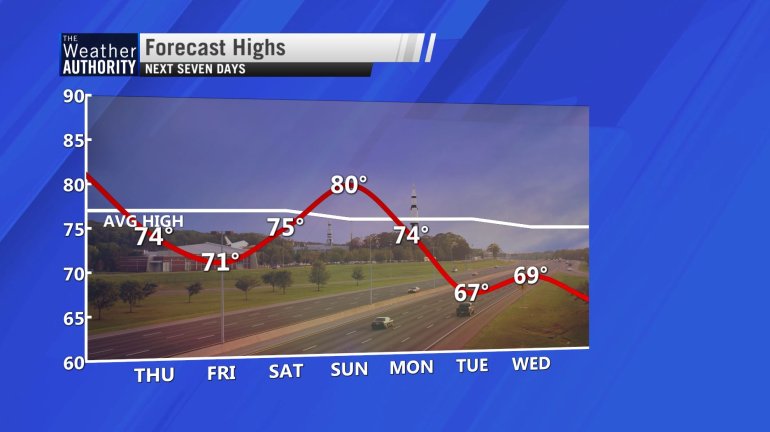 Temperatures drop significantly for Thursday and Friday: highs in the low-to-middle 70s in Huntsville-Decatur-Athens and The Shoals. Some of the higher elevations may stay below 70ºF both days. Morning lows fall into the 40s by Friday morning.
It warms up a touch Sunday ahead of the next front; clouds and showers develop Sunday afternoon and evening, and then the next push of chilly air moves in by Monday afternoon.
Monday's 'high' is tricky; it depends heavily on what time the front passes. If it's six hours earlier than we expect as of now, high temperatures may only reach the upper 50s with clouds and showers in the area.
Frosty weather soon? It's possible that some communities could have the first frost of the year in the next 10 days. We expect a low of 40ºF in Huntsville Tuesday morning; that could easily be 34-38ºF in some of the usual cold pockets, and a chill like that is enough for some patchy, light frost.
The 'normal' first frost comes in the last half of October to early November, so it's possible that we could go from the never-ending summer to an early frost in a matter of weeks.
Looking for the forecast? It's always online at WHNT.com/Weather and in the "Daily Forecast" section on Live Alert 19!
-Jason
Connect with me!
Facebook: Jason Simpson's Fan Page
Twitter: @simpsonwhnt