This is an archived article and the information in the article may be outdated. Please look at the time stamp on the story to see when it was last updated.
The never-ending summer finally ended.  Eighteen days ago, Huntsville hit 92ºF.  This morning (Monday), we had our first freeze of the year in Russellville, Fort Payne and Decatur!  We've got some ups and downs in the near-term, but what can we see about the long-range?
The weather around Halloween looks 'unsettled.' That's a non-technical term (obviously) that describes a fast-paced weather pattern to end October and start November. Most likely we'll have at least one more shot at a freeze before the month is over: next Tuesday or Wednesday (Halloween).
By the way, as of Monday, October 22nd, the Halloween forecast looks a little cool: highs in the 60s, trick-or-treat temps in the upper 50s and dry.  In a fast-paced pattern, that could turn on a dime as a we get a better handle on the timing of individual smaller-scale weather systems within the over-all flow.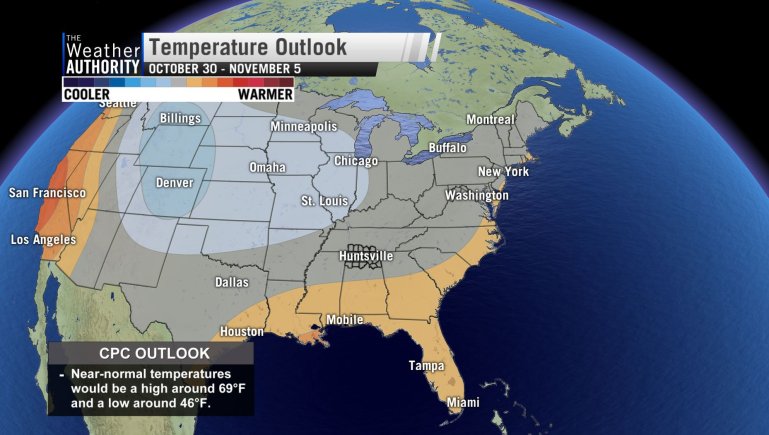 After that, the beginning of November is looking warmer; that warmth along with a fast-paced, 'unsettled' pattern likely sets up a threat of strong storms before November 10th. That's a long way off, and there are no details to be seen right now; however, the fact that we are entering Dixie Alley's secondary tornado season shouldn't be lost on you. It's been quiet for a while now, so make sure you're ready for whatever the Fall tornado season may send this direction.
You can always keep track heavy storms and threatening weather with WHNT.com's Interactive Radar or swipe over to the radar feature on Live Alert 19! The forecast and a direct link to our Weather Authority blog is available there as well!
Alabama Tornadoes by Month:  November is the 'peak' of the secondary tornado season in Alabama.  It's an infamous that includes one of Huntsville's deadliest storms: the November 15, 1989 Airport Road tornado.
Records show over 200 November tornadoes in Alabama since 1950.
North Alabama (the area included the National Weather Service Office in Huntsville's County Warning Area) has a little less than a quarter of all November tornadoes.
Last year, a line of storms produced several tornadoes with no advance warning other than a 'Severe Thunderstorm Warning.'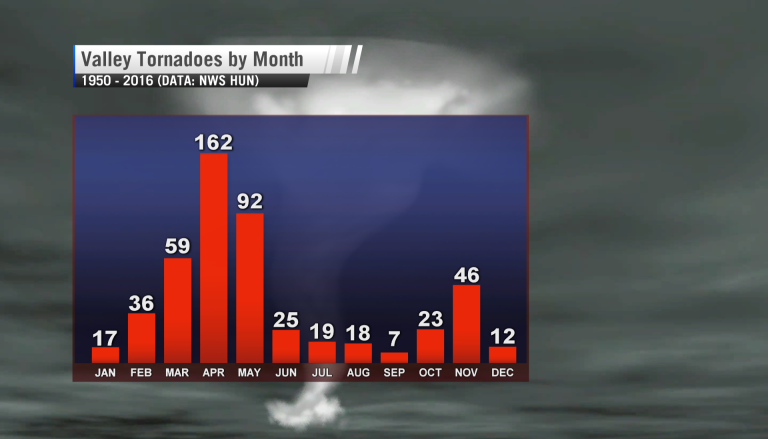 Why the uptick in tornadoes during the fall season?
In the South, the same ingredients that are present for spring season severe weather is present in the fall: A warm, humid (tropical) airmass from the Gulf that is located over the South is forcefully replaced by cold, dry air surging south from Canada. The interaction of these two air masses can produce severe thunderstorms, and some them rotate and cause tornadoes.
That clash of air masses means an active jet stream, so the weather can change quickly in November!  Sometimes we may only have a 24-48 hours' notice of severe weather, so stay plugged in and make sure you've got the new Live Alert 19 downloaded and ready to go!
Looking for the forecast? It's always online at WHNT.com/Weather and in the "Daily Forecast" section on Live Alert 19!
-Jason
Connect with me!
Facebook: Jason Simpson's Fan Page
Twitter: @simpsonwhnt