This is an archived article and the information in the article may be outdated. Please look at the time stamp on the story to see when it was last updated.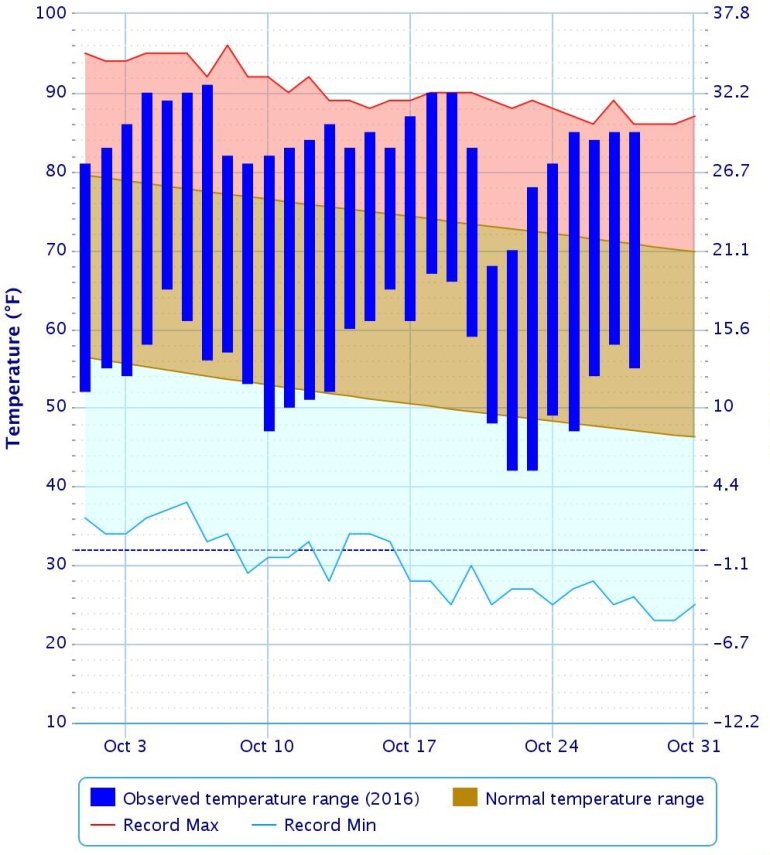 It's probably no surprise that this October is one of the warmest on record. We've already broken three high temperature records this month and will likely break a few more this week. October 2016 already comes in as the warmest on record in terms of average daily temperature (which accounts for daily lows and highs). Our average temperature so far this month comes in at 69.5 degrees, the warmest since 1919. This is mostly due to how warm our afternoons have been.
Our daily high temperature this month also comes in as the warmest on record for October, averaging at 83.8 degrees. That's a big swing from our observed average low temperature this month, which is about 55.2 degrees(the 13th warmest on record). So why have we been experiencing such big differences in our high and low temperatures? This answer probably won't surprise you either: it's in part because of the drought.
Clear skies and dry air contribute to faster temperature changes. So when we start cooling down we cool down fast and when we warm up we warm up fast. This is a trend that we'll continue to see for some time. Rainfall chances this week are minimal, so the drought will only continue to deepen and afternoon highs will stay well above average.