This is an archived article and the information in the article may be outdated. Please look at the time stamp on the story to see when it was last updated.
UPDATE: 12:26 PM Wednesday (1/4/2017)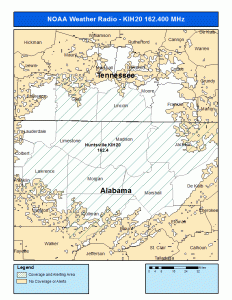 The phone line to the Monte Sano transmitter has been repaired and NOAA Weather Radio service is active again via KIH-20 (162.400).
Residents of Madison, Marshall, Jackson, DeKalb, Cullman, Morgan, Limestone, Lawrence, Lincoln and Giles Counties that usually rely on 'channel 1' on the NOAA Weather Radio should be able to receive the signal again.
(Information from the outage is below)
Public Information Statement
National Weather Service Huntsville AL
1124 AM CST Mon Jan 2 2017

...NOAA Weather Radio Transmitter in Huntsville offline...

NOAA Weather Radio station KIH-20, transmitting out of Huntsville
on a frequency of 162.400 MHz, is off the air due to a phone line
outage. We have contacted technicians to fix the problem, and expect
it to be operational as soon as possible.

During the outage, persons across the listening area can get their
weather information from other stations. They include:

WNG-642 out of Arab, transmitting on 162.525 MHz.
WWF-44 out of Fort Payne, transmitting on 162.500 MHz.

We apologize for any inconvenience this outage may cause.
The Fort Payne transmitter is recommended if you are in Marshall or Jackson County, but normally tune into the Huntsville station. Fort Payne will not broadcast alerts for warnings in Madison county, but will include general weather information for Madison. Madison County will receive alerts from the Arab transmitter or the Winchester, TN transmitter (transmitting on 162.525 MHz).
You can find a transmitter for your county in the maps below:
(We will update this post when the transmitter is back online.)
Track heavy storms with WHNT.com's Interactive Radar or swipe over to the radar feature on Live Alert 19!
How to program a NOAA Weather Radio
WHNT.com's Maps & Radar Page
Live Alert 19 and the WHNT News 19 App
Baron Saf-T-Net (phone/text)