This is an archived article and the information in the article may be outdated. Please look at the time stamp on the story to see when it was last updated.
BIRMINGHAM, Ala. — The National Weather Service in Birmingham stated Sunday that the 2019 tornado count for the state of Alabama is "adding up quickly".
As of April 21, 2019, as many as 53 tornadoes have been recorded in the state of Alabama in the first four months of 2019 alone. This is already more than the 46 tornadoes recorded in the entirety of 2018.
The NWS added that "The 53 tornadoes recorded before the end of April ranks second all time behind the infamous 2011. Additionally, the 53 tornadoes in 2019 rank as the 13th highest yearly total to occur since 1950."
2019 by EF Scale
The NWS states that the majority of the tornadoes that occurred so far in 2019 have been rated weak EF0 and EF1s, though a few strong and violent tornadoes have touched down this year.
Broken down by the Enhanced Fujita scale, Alabama has experienced:
24 EF-0 tornadoes (estimated maximum winds of 65-85 mph)
23 EF-1 tornadoes (estimated maximum winds of 86-110 mph)
5 EF-2 tornadoes (estimated maximum winds of 111 to 135 mph)
1 EF-4 tornado (estimated maximum winds of 166 to 200 mph)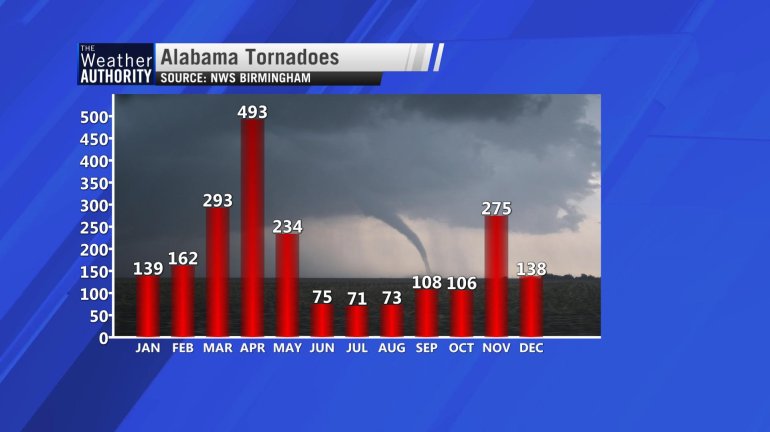 April is the peak month for severe weather in Alabama, and it is also the peak month for tornadoes.
Below is additional information from the National Weather Service regarding Alabama's 2019 tornado count, as well as safety tips for keeping you and your family safe during severe weather.
PUBLIC INFORMATION STATEMENT
NATIONAL WEATHER SERVICE BIRMINGHAM AL
926 PM CDT SUN APR 21 2019

…2019 ALABAMA TORNADO COUNT ADDING UP QUICKLY…

ALABAMA AVERAGES 12.6 TORNADO DAYS A YEAR, BASED ON THE 30-YEAR
AVERAGE (1989-2018). THROUGH APRIL 21ST, ALABAMA HAS HAD NEARLY THE
YEARLY AVERAGE DAYS OF OCCURRENCE AT 9 DAYS. SO ON THESE 9 DAYS IN
2019, A WHOPPING 53 TORNADOES HAVE OCCURRED. THE 53 TORNADOES
RECORDED BEFORE THE END OF APRIL RANKS SECOND ALL TIME BEHIND THE
INFAMOUS 2011. ADDITIONALLY, THE 53 TORNADOES IN 2019 RANK AS THE
13TH HIGHEST YEARLY TOTAL TO OCCUR SINCE 1950. IN 2018, ALABAMA
SUFFERED 46 TORNADO OCCURRENCES THE ENTIRE YEAR. WE HAVE ALSO LEAPED
PASSED THIS NUMBER ALREADY, EARLY INTO 2019.

THE 30-YEAR AVERAGE COUNT FOR ALABAMA TORNADOES IN AN ENTIRE YEAR IS
47. THEREFORE, WE HAVE ALREADY ECLIPSED THE YEARLY AVERAGE AND WE
ARE NOT EVEN THROUGH THE SPRING SEVERE WEATHER SEASON. SPRING
SEVERE WEATHER SEASON IS LOOSELY REFERRED TO AS THE PERIOD FROM MARCH
THROUGH MAY. THIS IS THE TIME OF YEAR WHERE THE GREATEST NUMBER OF
TORNADOES DEVELOP. MARCH 2019 WAS RECORD SETTING. WE OBSERVED 28
TORNADOES IN MARCH THIS YEAR, WHICH IS THE HIGHEST TOTAL FOR MARCH
SINCE 1950. APRIL ARRIVED AND TORNADOES CONTINUED FORMING, IN FACT,
16 TORNADOES DROPPED FROM THE SKIES. THIS NUMBER IS THE 7TH HIGHEST
TOTAL FOR APRIL SINCE 1950. IF WE ADD THESE TWO NUMBERS TOGETHER FOR
THE SPRING SEVERE WEATHER SEASON, WE ARE ALREADY UP TO 44 TORNADOES.
IF WE TAKE INTO ACCOUNT JUST MARCH AND APRIL STATISTICS, THIS IS THE
SECOND HIGHEST AMOUNT RECORDED BEHIND THE INFAMOUS 2011 AGAIN.

THE 2019 TORNADO OCCURRENCES HAVE BEEN HEAVILY WEIGHTED TOWARD THE
EF0/EF1 TORNADO INTENSITY RATING. THERE HAVE BEEN 24 EF0'S AND 23
EF1'S THAT HAVE TOUCHED DOWN IN ALABAMA THIS YEAR. THESE TORNADOES
HAVE PRODUCED SIGNIFICANT DAMAGE, BUT LUCKILY DID NOT CAUSE MANY
SERIOUS INJURIES. BUT ALABAMA ALSO HAD 5 EF2'S AND ONE EF4 TORNADO.
EF4'S ARE RELATIVE RARE WITH ONLY 35 OCCURRENCES IN ALABAMA SINCE
1950. UNFORTUNATELY, THESE STRONGER TORNADOES HAVE A GREATER CHANCE
FOR CAUSING INJURIES AND FATALITIES. THE BEAUREGARD-SMITHS STATION
EF4 TORNADO INJURED AND KILLED DOZENS OF ALABAMIANS.

2019 STILL HAS A LONG WAY TO GO. SEVERE WEATHER WILL LIKELY OCCUR
AGAIN THIS YEAR. PLEASE REMEMBER THE FOLLOWING; A) TORNADOES OCCUR
MORE FREQUENTLY IN MARCH, APRIL, MAY, NOVEMBER, AND DECEMBER, BUT
THEY DO OCCUR IN EVERY MONTH OF THE YEAR IN ALABAMA, B) TORNADOES
OCCUR MORE FREQUENTLY BETWEEN NOON AND 7 PM, BUT THEY DO OCCUR AT
EVERY HOUR IN ALABAMA, C) ALL TORNADO INTENSITIES OCCUR IN ALABAMA,
D) TORNADOES OCCUR MORE FREQUENTLY NEAR THE COAST AND ACROSS NORTH
ALABAMA, BUT TORNADOES OF VARYING INTENSITIES HAVE TOUCHED DOWN IN
EVERY COUNTY IN THE STATE.

STAY SAFE ALABAMA!!

…TORNADO SAFETY TIPS…

1) LEAVE YOUR MOBILE HOME WHEN SEVERE WEATHER APPROACHES FOR A
STURDIER SHELTER

2) FIND A SAFE AND PROPER TORNADO SHELTER

3) HAVE MULTIPLE WAYS TO RECEIVE TORNADO WATCHES AND TORNADO
WARNINGS

4) BE ABLE TO IDENTIFY YOUR LOCATION ON A MAP

5) TEACH OTHERS MAP SKILLS SO WE ALL KNOW IF THERE IS THREAT NEAR US

6) SHARE IMPORTANT WEATHER INFORMATION WITH THOSE THAT MAY NOT BE
AWARE OF A THREAT

7) HAVE A SAFETY PLAN AND AN EMERGENCY KIT READY TO GO

8) DON'T RELY ON OUTDOOR TORNADO SIRENS

9) TREAT SEVERE THUNDERSTORMS WARNINGS SERIOUSLY, TORNADOES CAN FORM
QUICKLY WITH LITTLE ADVANCE WARNING AT TIMES