This is an archived article and the information in the article may be outdated. Please look at the time stamp on the story to see when it was last updated.
No doubt it was cold. Temperatures reached the upper teens to mid-20s Monday morning.
But Monday afternoon, we noticed something else about the weather in the Valley: It is dry as a bone.
Although temperatures climbed into the upper 50s (and eventually reached 60 degrees) Monday afternoon, the dewpoints stayed in the low to mid teens.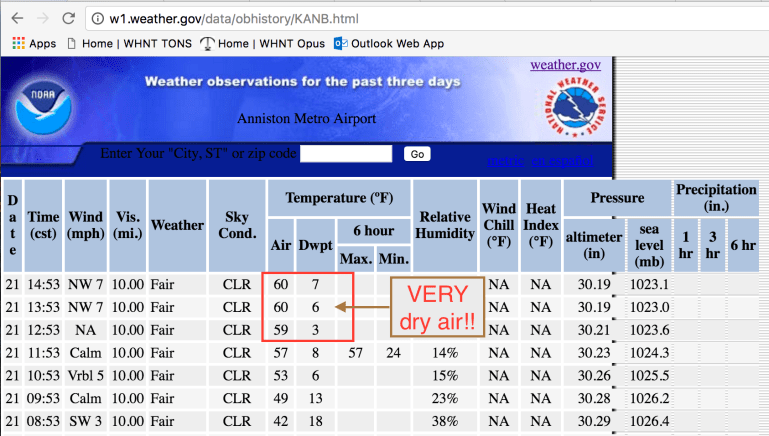 It was a similar situation in Anniston, though look at the dewpoints — they were single digits!
Recall that the dewpoint is the temperature at which you need to cool a parcel of air so that any water vapor within it condenses into liquid water. In the case of Huntsville and Anniston, the air would somehow need to be cooled nearly 50 degrees in order to reach the dewpoint. That is very, very dry air!
As a result, you may notice your nose or throat feeling irritated, and your skin may be drying out faster than you expect, resulting in ashy patches.
Be sure to continue drinking plenty of water to counteract the moisture leaving your body and becoming absorbed by the surrounding dry air.
Why so dry?
As of Monday, the weather in the Southeast is controlled by an area of high pressure that continues to pull cold, dry air from the Arctic into the Valley.
As we head closer into mid-week, you will notice a return of atmospheric moisture to the Valley ahead of a low pressure system that will bring the next chance of rain. Similar to what has been happening lately with the low rain amounts, we are not expecting a big deluge of rainfall this week, due to the excessively dry air that is in place at the moment.
As rain falls into a dry airmass, it evaporates before making it to the ground, which is known as virga. Here is hoping that we will see dewpoints reach the upper 50s to lower 60s late Tuesday through Wednesday, so that both our chances of rain — as well as our skin — do not dry up this week!