This is an archived article and the information in the article may be outdated. Please look at the time stamp on the story to see when it was last updated.
We are steadily moving toward Fall. The signs are there: hummingbird migration underway, some leaves already changing (controlled by daily sunlight supply – not temperature), and it's dry like Fall usually is.
But it was blazing out there on Monday.
Huntsville hit 96ºF.  The average high temperature since September 1 stands at 93.3ºF: a solid 5 degrees above average for the first six days of the month.
If there's any comfort to be found, it's in the low relative humidity.  At 5 PM, the relative humidity was only 28%!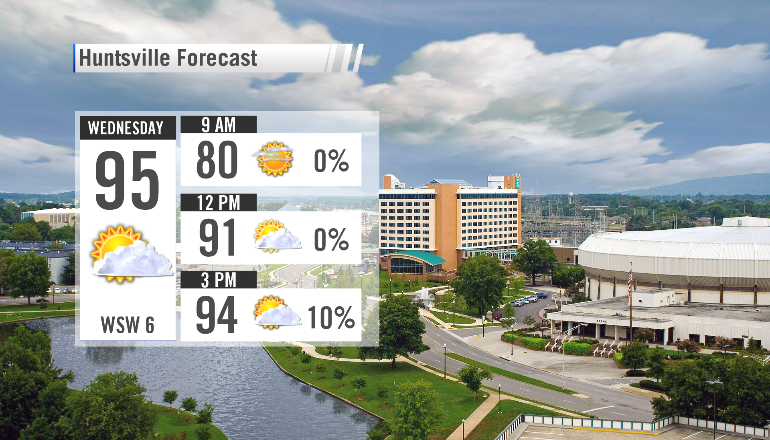 The weather stays dry tonight; expect a fair start to Wednesday with temperatures in the mid-60s at sunrise. It heats up into the middle 90s in the afternoon, and if there is any good news, the humidity is low enough that the "feels like" temperature won't go much above the actual air temperature.
Rain would be nice, but there's not much ahead. We maintain a low-end (10%) chance of an isolated, small, brief pop-up shower or thunderstorm each afternoon; the odds are very much in favor of dry weather until the weekend. Expect daytime highs in the mid-90s all week with more sun than clouds.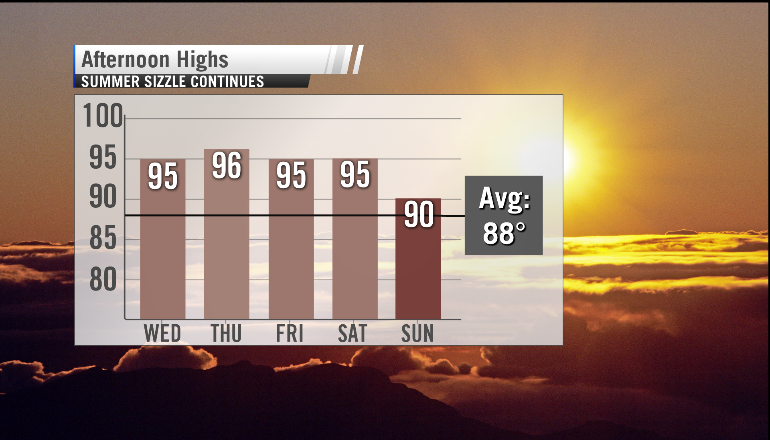 Weekend cool front: A slightly cooler air mass takes aim on the South this weekend, and as we transition from the very hot weather in place, some isolated showers and thunderstorms are possible over the weekend. The best shot at rain appears to be late Saturday evening through the pre-dawn hours on Sunday. Don't get your hopes up over this; most communities will not get a single drop of rain over the next seven days.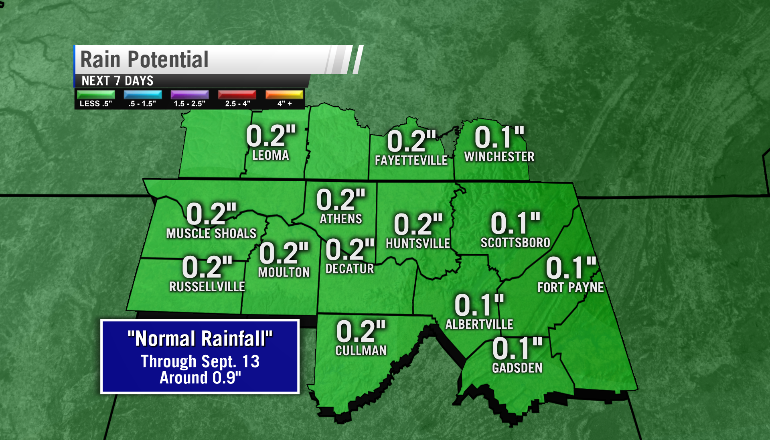 How long will it stay this hot? The weekend front will drop temperatures back to near-normal levels for Sunday and Monday, but it is not quite what many are hoping for: Fall-like weather.
There are no signs of persistently "cooler" weather in the next 10 to 14 days; however, the heat will back down some toward mid-September (near 90ºF instead of 95ºF).
The 90s are usually over for the year by September 18th, but they can roll on into October. The latest 90-degree reading on record in Huntsville came on October 20th, 1941.
Need some specifics about the weekend or next week? They're always online at WHNT.com/Weather and in the "Daily Forecast" section on Live Alert 19!
-Jason
Connect with me!
Facebook: Jason Simpson's Fan Page
Twitter: @simpsonwhnt