This is an archived article and the information in the article may be outdated. Please look at the time stamp on the story to see when it was last updated.
The latest 90ºF day on record in Huntsville is October 20, 1941. In Muscle Shoals, it's October 22, 1963. It sure doesn't look like we will have 90s that late into the season this time, but it would not be out of the question to have at least one or two more days near or just above 90ºF before mid-October.
The heat is over in the short-term, though! Two pushes of cooler air, one tonight and another on Wednesday night, forces temperatures down into more tolerable, Fall-like territory for the next week or so.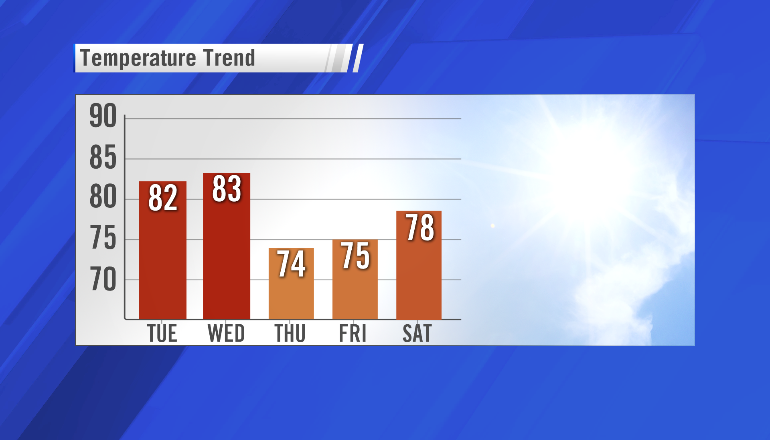 Highs in the 60s??
Colder air moving in Thursday and Friday could keep highs below 70ºF in some of the higher terrain in Madison, Jackson and DeKalb Counties as well as Lincoln, Moore and Franklin in Tennessee. Our forecast keeps highs around 74-77ºF in Huntsville, Decatur and The Shoals, but a cloudy sky and a breeze will make it feel a little chilly compared to that high of 99ºF we had on Sunday.
Pleasant weekend ahead:
Last weekend's record heat will be a distant memory this weekend. Cool, crisp mornings bring low temperatures as cool as 44-49ºF in the usual cold pockets on Saturday and Sunday. Daytime highs only rise into the upper 70s to near 80 degrees, and we get a sunny sky!
The only thing missing from this perfect weekend forecast? Some widespread rain somewhere on either side of it. We still see nothing but dry weather (with a few minor exceptions) for the rest of this week, this weekend, and next week.
Could it get hot again?
Yes, it could.  We do expect middle and upper 80s at least for much of next week (the first week of October).   Starting next Monday, the "average" high temperature according to the record books is 77-78ºF; as temperatures rise again, guidance is pointing toward numbers about 5 to 10 degrees (F) above average.
That would put us between 83ºF and 88ºF again with a shot at cracking 90ºF as long as it stays sunny and dry.
After that, there's a good chance that we will have all of the hot weather behind us and head toward a more persistent cool Fall pattern throughout October into November.
Don't forget that it's still hurricane season, though!  We've got an eye on a developing system in the Atlantic that could have some effect on the Eastern United States in the next 10-14 days.
-Jason
Connect with me!
Facebook: Jason Simpson's Fan Page
Twitter: @simpsonwhnt