This is an archived article and the information in the article may be outdated. Please look at the time stamp on the story to see when it was last updated.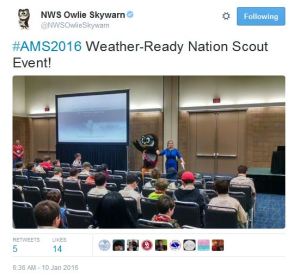 I am a huge fan of scouting. When I was little, I was both a Brownie and a Junior Girl Scout, and my favorite patch to earn was naturally the weather patch.
I remember watching the weather report and noting the forecast highs and lows for the day, and whether rain was in the forecast. I also remember taking field trips to TV stations in my hometown and having a blast meeting the local meteorologists!
That passion for forecasting and telling the weather story continues even today. But beyond monitoring weather systems and delivering the weather, I also love giving back to current Boy and Girl Scouts, and its why I am in New Orleans for the next few days!
WeatherReady Nation Scout Event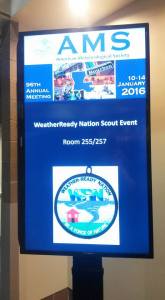 The WeatherReady Nation Scout Event is a special opportunity developed in tandem with the American Meteorological Society (AMS) annual meeting and conference. During the WeatherReady Nation Scout Event, professional meteorologists and atmospheric scientists from across the country come together to guide 200 Boy and Girl Scouts as they learn about the science of weather.
The scouts have a unique opportunity to interact one-on-one with local TV meteorologists, National Weather Service forecasters, and even emergency managers. During the event, scouts learn how to interpret symbols on a weather map; understand the different weather hazards in their community; and how to receive information before, during, and after a significant weather event.
This year, the WeatherReady Nation Scout Event took place Sunday morning. Despite the early start, many of the scouts were excited, especially when they got to meet Owlie Skywarn. Dr. Russell Callender, who is the Acting Assistant Administrator for NOAA's National Ocean Service, shared how scouting influenced him as a kid and gave him the skills to be a leading scientist today.
After a few opening words, the scouts quickly dove in to the tasks at hand. Some scouts drew different cloud formations as they learned about the water cycle. Other scouts developed highly animated skits as they shared safety tips during flash flooding, lightning, or when a tornado is nearby.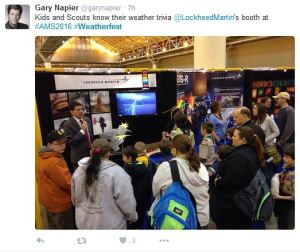 Afterwards, the scouts attended WeatherFest, which is a fun festival full of weather and atmospheric science-related exhibits. NASA was there with a cool display of the world, and Lockheed Martin was hosting fun weather trivia.
I had a blast helping the AMS put this event together for the local scouts of southern Louisiana! When I return to the Tennessee Valley, my goal is to help serve the local scouts of northern Alabama and southern Tennessee as well. Whether you're earning your weather merit badge or are just curious about meteorology, feel free to drop me a line!
– Christina Edwards
Connect with me!
Facebook: Christina Edwards, WHNT
Twitter: @ChristinaWHNTwx