This is an archived article and the information in the article may be outdated. Please look at the time stamp on the story to see when it was last updated.
MONTGOMERY, Ala. – Governor Robert Bentley on Wednesday signed a Drought Emergency Declaration due to extremely dry conditions.
The declaration, often referred to as a 'No Burn Order', prohibits all outdoor burning for 46 counties in north and central Alabama.
The order is effective as of 3 p.m. Wednesday, October 12, 2016.
"The current drought condition in our state is posing a serious threat for wildfires," Governor Bentley said. "The continued lack of rain combined with low relative humidity and strong winds are putting several counties at a very high risk. This declaration is meant to prevent unnecessary burning, reducing the chance of avoidable fires."
The new drought numbers are out and the drought extends further west. Almost all of Jackson County is in driest category with the extreme drought extending into central and southern Madison County.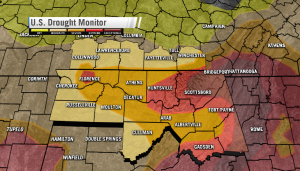 The No Burn Order affects the following counties which have been upgraded from the previously-issued Fire Alert: Autauga, Bibb, Blount, Calhoun, Chambers, Cherokee, Chilton, Clay, Cleburne, Colbert, Coosa, Cullman, Dallas, DeKalb, Elmore, Etowah, Fayette, Franklin, Greene, Hale, Jackson, Jefferson, Lamar, Lauderdale, Lawrence, Lee, Limestone, Lowndes, Macon, Madison, Marion, Marshall, Montgomery, Morgan, Perry, Pickens, Randolph, Russell, Shelby, St. Clair, Sumter, Talladega, Tallapoosa, Tuscaloosa, Walker, and Winston.
Additionally, the Alabama Forestry Commission (AFC) has issued a Fire Alert for the remaining counties in south Alabama, effective immediately.
"We need rain desperately. Over the past couple of weeks we've seen an increase, not only in the number of wildfires, but also in the size of these fires. Several of them have been very large wildfires," State Forester Gary Cole said. "With this extremely dry weather, conditions are such that any fire can quickly spread out of control, not only resulting in damage to our forests but also threatening and destroying homes. These burning restrictions are a necessary result of the ongoing lack of precipitation, the recent increased number of fires, high probability of fuel ignition, as well as the reduced availability of firefighting manpower and suppression resources across the state."
Over the last seven days, 341 wildfires have burned over 4,100 acres in Alabama, according to Alabama Forestry Commission fire officials.
The Drought Emergency Declaration order will remain in effect until rescinded by the State Forester, at which time conditions will have changed sufficiently to reduce the occurrence and frequency of wildfires. To report persons burning in violation of this law, contact your local law enforcement. For more information on the current wildfire situation in the state, visit Alabama Forestry Commission's website at www.forestry.alabama.gov.
A copy of the signed declaration is available here.