This is an archived article and the information in the article may be outdated. Please look at the time stamp on the story to see when it was last updated.
A large complex of severe storms moved across Mississippi,  North Alabama and Tennessee Monday night into Tuesday morning producing numerous tornadoes in and near the WHNT News 19 viewing area.
Post-Storm Analysis
Lauderdale County: One of the first tornado warnings of the evening was in Lauderdale County.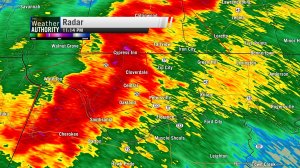 The storm rolled through quickly, and it wasn't until a couple of hours later that reports of damage began to come in. Most reports of wind damage came from the Cloverdale Community, north of Florence.
The National Weather Service has confirmed EF-1 tornado damage. Read the survey here: NWS Huntsville Public Information Statement
Franklin County, Tennessee: The storm surveyed in Franklin County caused significant damage to the Estill Springs community around 1:30AM Tuesday. Reports of trees down and housing damage came in quickly behind this storm.
The storm near Estill Springs showed one of the strongest shear rates we saw Monday night. Shear rate is a measure of the change in wind direction and speed as you move from the ground up to a storm, essentially showing us the potential for rotation.
Preliminary reports for this storm from the National Weather Service confirm an EF-2 tornado, which produced winds up to 130 mph. Read the survey here: NWS Huntsville Public Information Statement
Jackson County: The storm surveyed in Jackson County began showing signs of rotation back in southern Madison County around 2AM, but the rotation became much clearer as it crossed over into Jackson County around 2:30AM. Damage to outbuildings and barns were reported southwest of Scottsboro from this storm, which tracked just north of HWY 72 from Aspel toward Scottsboro.  Wind speeds topped out around 105 miles per hour over a path just less than four miles long.
Meteorologist Christina Edwards was in Aspel the morning after the tornado, and she gathered numerous imagery of the storm damage via her twitter feed.
6:11am Tuesday: County Road 101 in #Aspel, #AL. Looks to be metal debris wrapped around what's left of this tree. #valleywx #alwx @whnt pic.twitter.com/0BlXsLBxpt

— Christina Edwards (@ChristinaWHNTwx) November 6, 2018
#Aspel #AL father was watching the weather when he got the #tornado warning. He gathered his family into their safe place moments before the storm debris crashed into the sunroom. #valleywx #alwx pic.twitter.com/gwZG2yD1Lm

— Christina Edwards (@ChristinaWHNTwx) November 6, 2018
A tornado was confirmed via radar imagery, which showed correlating signs of rotation across various radar products. Shear rate and velocity products showed strong signs of rotation, and another radar product called correlation coefficient showed signs of debris being picked up by the storm. The correlation coefficient essentially measures the shape and size of objects being detected by radar, which can indicate if debris is present. The spot of higher correlation coefficient values correlating with rotation is sometimes called a Tornado Debris Signature, which was present in this storm from Aspel to Scottsboro.
Preliminary reports right now show damage consistent with an EF-1 Tornado in Jackson County. Read the survey here: NWS Huntsville Public Information Statement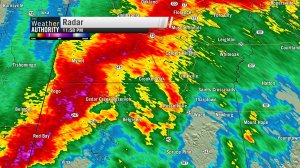 Franklin/Colbert: The National Weather Service in Huntsville completed the survey with Colbert and Franklin County EMA and determined that an EF-0 with roughly 76 MPH winds briefly touched down near Ligon Springs.
Read the full survey here: NWS Huntsville Public Information Statement.