This is an archived article and the information in the article may be outdated. Please look at the time stamp on the story to see when it was last updated.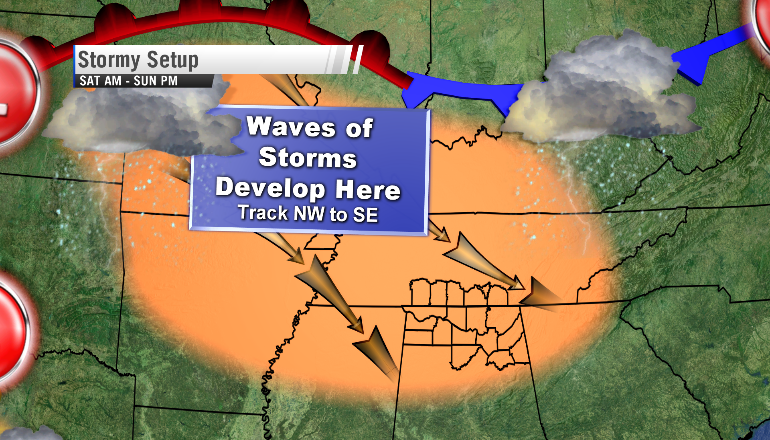 HUNTSVILLE, Ala. – Thunderstorms with heavy rain and very gusty winds may impact your outdoor plans Saturday and again early Sunday morning.
It will not rain all weekend; the rain and storms will come in two distinct rounds.
The first happens during the morning Saturday and may last into the early afternoon. The second wave arrives very late Saturday night and early Sunday morning.
The toughest part of this forecast (and the part that still may need to be adjusted) is the timing.
There will be several hours of dry weather in between these waves of storms, so you should not totally cancel any weekend plans. The best way to stay up to date on the active forecast is to check in often on social media, WHNT.com, as well as our newscasts.
How to program a NOAA Weather Radio
WHNT.com's Maps & Radar Page
Live Alert 19 and the WHNT News 19 App
Baron Saf-T-Net (phone/text)
Flip through the gallery below to get a general idea of when the first wave of storms may move in Saturday morning.
A more substantial wave of storms explodes northwest of us Saturday afternoon and moves southeast into the Valley by Sunday morning. Some of those storms could be severe with high winds and hail.
More storms develop Sunday afternoon and evening, and again those storms could be severe.
The waves of storms on Saturday and Sunday dictate what happens on Monday. If the entire area gets soaked twice over the weekend, we may well escape with minimal coverage of rain on Memorial Day itself.
Total rainfall through Monday looks healthy: around 1-2″ with isolated spots getting as much as 3-4″ from multiple heavy downpours.