This is an archived article and the information in the article may be outdated. Please look at the time stamp on the story to see when it was last updated.
A few strong to severe thunderstorms moved through north Alabama Sunday afternoon, producing 1.0 – 1.75 inch diameter hail in eastern Morgan County as well as southern Madison County.
(YOUR PHOTOS: Sunday storms bring hail to north Alabama )
Another round is on the way for Monday, beginning with the morning commute and extending into the afternoon hours.
Monday's Severe Threat: The Storm Prediction keeps the entire Tennessee Valley under a MARGINAL risk of severe storms Monday. There is a *SLIGHT RISK* for west Alabama as well. Gusty winds and hail are the main threats.
For early Monday morning, the best chance of a few strong storms will from Huntsville west. That's where storms are most likely to hold together as they move in from the south and west.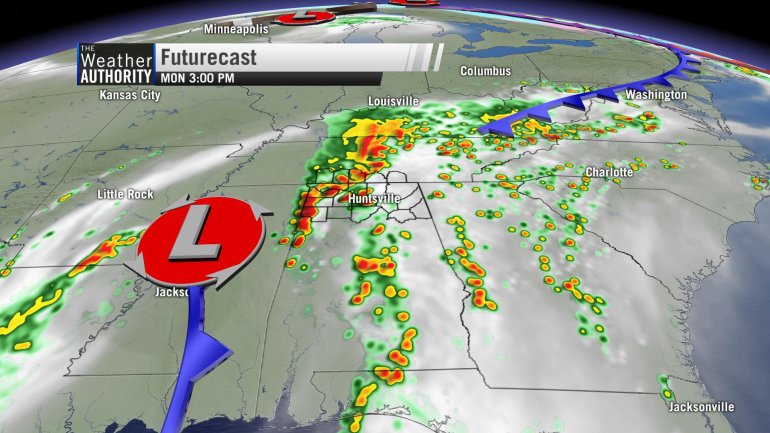 By Monday afternoon, the storm system will move in and provide the 'lift' that we'll be missing on Sunday. The best timeframe for storms to strengthen Monday will be from 12pm through 6pm, as the storm system is moving through. The question Monday is if we'll have enough instability during that time for storms to become severe (produce winds of 60+ mph or large hail).
This kind of risk is one you just need to be aware of. You can go about your day as planned as long as you have a way to receive alerts, such as Live Alert 19.
By the time this rain moves out we'll have picked up close to an inch of rain (with locally heavier amounts possible from isolated heavy storms). That's just enough to keep soils moist and settle the pollen for a day or two!
The week ahead:
We'll experience a few days of dry weather before more rain and storms return to the Tennessee Valley. For the latest information on the extended day forecast, check the WHNT News 19 forecast discussion.