This is an archived article and the information in the article may be outdated. Please look at the time stamp on the story to see when it was last updated.
Hurricane Barry made landfall as a Category 1 storm with winds of 75MPH Saturday afternoon. Barry will now slowly move north through Louisiana and into Arkansas through our Sunday. The storm will weaken more quickly the farther inland it gets, likely become just a remnant low by Monday.
As Barry drifts by to our west, we'll get the edge of the system's heavy rain and storms. Expect heavier storms to develop through Sunday afternoon and last through the evening. While you should be prepared all day, also know that it won't be raining everywhere all day; storm coverage will still be 'scattered', meaning that periods of rain will come and go throughout the afternoon and evening.
With most tropical cyclones a risk of severe weather develops just east of the system, and Barry will be no different. The highest risk of severe weather on Sunday will be over Mississippi, but there is also a low-end chance that s storm becomes severe over Alabama too. Severe storms could bring high winds, heavy rainfall, and intense lightning.
More Rain This Week: We'll be under the influence of tropical moisture from the Gulf at least through midweek – about the time that Barry will dissipate over Missouri. In that time we'll continue to see tropical downpours and storms each afternoon.
Each day, areas of light to moderate rainfall will be possible all day, but the heaviest rain/storms will come in the afternoon and evening. That trend will continue Monday through Thursday, although the exact communities that get the heaviest rain will change day to day.
By the end of the week, most of the Tennessee Valley will have picked up another .50″-1.00″ with localized amounts up to 2.00″ possible.
Track storms anytime with WHNT.com's Interactive Radar or swipe over to the radar feature on Live Alert 19!
Heating Up Behind The Rain: The clouds and rain from Barry will keep our temperatures in check through the first part of the week, but that changes by the end of the week! While our rain chances are up Monday-Wednesday, our high temperatures will stay in the mid-to-upper 80s for highs. Don't be fooled by the 'cooler' temperatures though; the humidity will be so thick that it will still feel like the 90s each day.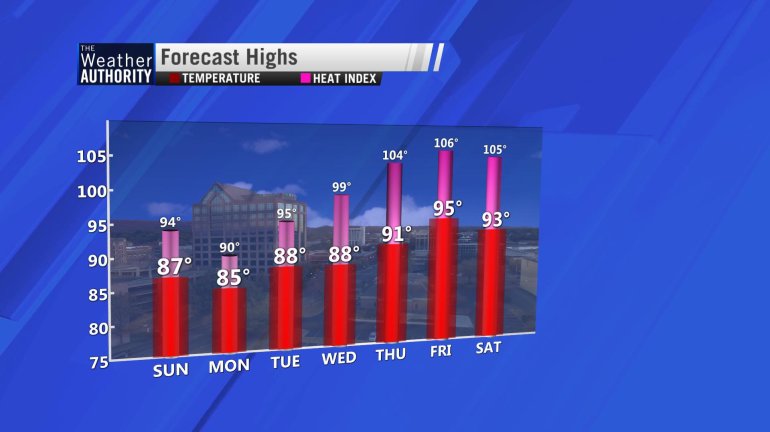 By Thursday rain chances will fall, and temperatures will rise! Highs Thursday into next weekend will climb back into the 90s. The humidity stays stuck over us too, and we could see a heat index range of 103°F-108°F by the weekend!